Mariners 2022 Prospect Rankings: #30-26 featuring Sam Carlson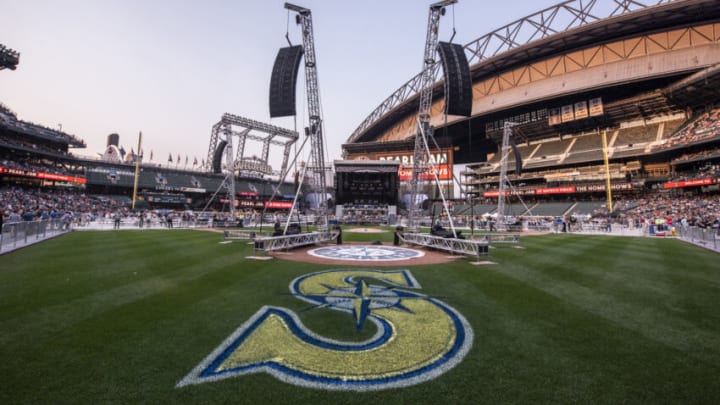 SEATTLE, WA - AUGUST 08: The Mariners logo is displayed on the infield grass alongside speaker towers before Pearl Jam's performance starts at Safeco Field on August 8, 2018 in Seattle, Washington. (Photo by Jim Bennett/Getty Images) /
One of my favorite things to read and learn about is prospects. Finding out more about those players who are going to be the up-and-comers, the hope for a franchise, and potentially the new faces of the game. As I've been reading about the Mariners recent draft picks, it inspired me to try and come up with a Sodo Mojo version of the top 30 prospects in the M's system.
We've already got articles out for Harry Ford and Emerson Hancock, the top hitter and pitcher in the Mariners system, as well as a recap of the guys who barely missed the list. Now, it's time to get into the top 30 and give you the guys who just made the list of top Mariners prospects.
Mariners #30 Prospect: 1B/COF Gabe Moncada – Age 20
Moncada was taken alongside Noelvi Marte and Jonatan Clase in 2018 during the Mariners international signing period. Moncada has played corner outfield a bit but is going to work hard to be passable there as he currently is pretty much stuck at first. This means he needs to be either a great hitter or have big-time pop.
36 of his 42 games this season were at rookie ball before moving to Modesto. He's hit .305/.404/.504, with five homers and four steals. If the speed can stick, it improves his value a ton, as it gives him positional malleability. Only about 6'3-180, there is a lot of room for him to grow. Power is definitely his main tool, but don't discount his vision. Only 29 K's in 141 ABs, good for about a 20% rate.
Mariners #29 Prospect: C Freuddy Batista – Age 22
Signed in 2017, Bautista has finally found his stride in A ball this season at Modesto. It's his first full season there, and he has a decent mix of power and speed. A good athlete for a catcher, Batista will play a bit in left or at first, but most of his time is spent at catcher. He's done a good job at finding gaps this year and has 23 XBH. With the Mariners being fairly thin at catcher in the minors, Batista is actually the second-ranked catching prospect behind Ford.
Mariners #28 Prospect: 2B/SS Edryn Rodriguez – Age 19
Signed in 2019, Edryn has more power than you would think for his size. At 5'9-150 lb, the middle infielder has shown enough pop to show he could carry low double-digit power through the minors. Likely going to end up at second, Edryn projects as a stereotypical low power/small second baseman who can find the gaps and fields a smooth glove.
Mariners #27 Prospect: RHP Sam Carlson – Age 23
Sam Carlson may be the most polarizing prospect in the Mariners system. Very talented, Carlson was drafted in the 2nd round in 2017. Tommy John and the Covid years in his past, Carlson is finally able to showcase his talent. He's got above-average grades on his fastball and changeup, although he also has a nice slider. He's starting to feel it mid-season, throwing 80+ pitches in four straight starts, striking out 10/9, and showcasing a fastball in the mid-90s.
Mariners #26 Prospect: SS Axel Sanchez – Age 19
Sanchez has crashed the prospect party, coming out of nowhere. Signed in 2019, he has been stateside finally and splitting time between ACL, Modesto, and Everett in 2022. He's set up to stay at short, but with the arm to move to third if necessitated. He showed the power was real in a midseason callup, hitting four homers in just nine games. He's exciting to watch as he has speed to pair it with, with the potential to put up a 20/20 combined season in 2023.
What do you think? Should any of these guys be taken off the list? Let us know your thoughts, and Go Mariners!