Mariners 2022 Prospect Rankings: Explanation and Those that missed out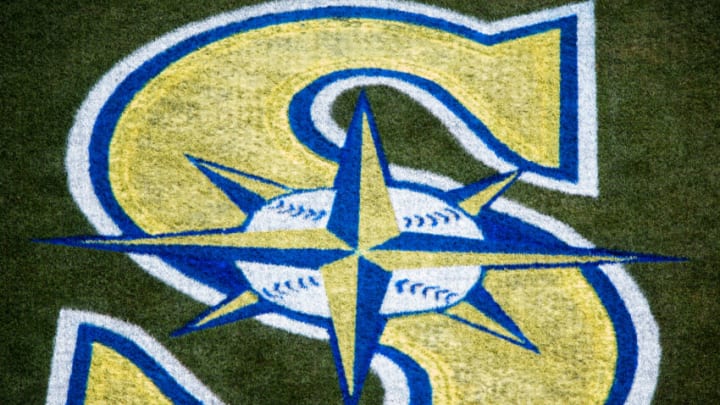 SEATTLE, WA - JULY 09: The Seattle Mariners' logo is painted in throwback colors for their Sunday day game against the Oakland Athletics at Safeco Field on July 9, 2017 in Seattle, Washington. The Seattle Mariners beat the Oakland Athletics 4-0. (Photo by Lindsey Wasson/Getty Images) /
This started out as wanting to take a look at the top prospects in the Mariners system. With all the changes that had happened to the top of the farm system, it was worth writing about the top hitter, Harry Ford, as well as the top pitcher, Emerson Hancock. Those are the ones that we see all over the place, and it would be a disservice to not write anything about them.
It turned into more than that though. Why not work on having our own top 30 prospects list? We see them all over the internet. Sure, some of them may have better resources than we do, but who better to write about the Mariners prospects than by people who are actually fans of the Mariners?
Let's learn about some Mariners Prospects and those that just missed out on the rankings
I'm not going to give grades to all of these guys. For the ones who missed, as well as our #30-26 and #25-21, it's going to be short write-ups on them to help you all get to know them a bit better. I'll also have a bit of help from some of my contributors here at Sodo Mojo as we make our way through the list.
It's why, instead of going to #3, we jumped down to the guys who have just missed out. Here are some of the lower-ranked prospects in the Mariners system.
Also… I pray they all prove me wrong and dominate. When it comes to prospect rankings, I hope I only ever nail the top rankings and am dead wrong on the rest.
Mariners Prospects who missed out: The Infielders
INF Martin Gonzalez: Age 17
SS Josh Hood: Age 22
2B Hogan Windish: Age 23
2B/SS Kaden Polcovich: Age 23
Windish and Hood are newcomers to the team, and just miss out. Don't be surprised to see them well into the list next year once they've had a chance to dip their toes in. Polcovich has slowly been sliding down the list, unable to take that next step as he is currently hitting .233/.338/.329 in Arkansas. Gonzalez is struggling in the DOSL, with an insane 76 Ks in just 147 ABs.
Mariners Prospects who missed out: The Outfielders
OF Zach Deloach: Age 23
OF Spencer Packard: Age 24
OF Victor Labrada: Age 22
OF Cade Marlowe: Age 25
Labrada is fast… but that's about all he has going for him. He's shown a tiny bit of pop, but is hitting just .217/.320/.348 in High-A. Deloach continues to struggle at AA, falling down the OF ranks for the Mariners. The same goes for Marlowe, who at 25, is falling out of the prospect tier and more into the journeyman minor leaguer tier. Packard was an old draft pick, and is playing his first full season in the minors at High-A Everett, and is doing well, but old for that league.
Mariners Prospects who missed out: The Pitchers
RHP Jean Munoz: Age 19
RHP Travis Kuhn: Age 24
RHP Tyler Gough: Age 19
RHP Joseph Hernandez: Age 22
RHP Stephen Kolek: Age 25
RHP Juan Then: Age 22
Some will have Kolek higher, but I don't see it. Doesn't K a lot, walk issues, bad ERA, and is already 25 in AA. Kuhn has much better numbers but is a reliever with worse control issues than Kolek. Hernandez is throwing really well but is 22 and in Modesto. He does have good stuff and keeps the ball in the park, so he is worth watching over the next year.
Juan Then was placed on the Mariners 40 man and has either been injured or awful since. Munoz hasn't made it out of the Dominican summer league, so he is still quite a ways out. Gough was just drafted by the Mariners in the 9th round and has a low 90s fastball as well as a slider and curve, and a change that he is still getting comfortable with.
Let us know if you think any of those players should have made it into the top 30. The Mariners system isn't as strong as it was 12 months ago, but the team is still in a good spot with a lot of intriguing, young talent. Go Mariners!