The Drought, Part I: The 10 Worst Mariners Since 2001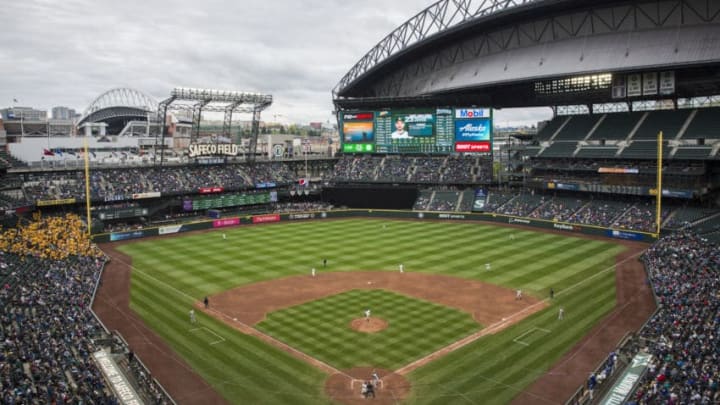 SEATTLE, WA - APRIL 15: A general view of Safeco Field as Felix Hernandez /
Honorable Mentions: 2B/OF Dustin Ackley, RHP Miguel Batista, and OF Milton Bradley
SEATTLE – MAY 06: Milton Bradley #15 of the Seattle Mariners is restrained by manager Eric Wedge #22 after being ejected from the game against the Chicago White Sox at Safeco Field on May 6, 2011 in Seattle, Washington. The Mariners won 3-2. (Photo by Otto Greule Jr/Getty Images) /
While names like Richie Sexson, Jack Cust, and Jose Vidro are popular names when talking about the worst Mariners, Ackley, Batista, and Bradley just stand out a little bit more to me.
We'll start with Ackley, the second overall pick for the Mariners in the 2009 MLB Draft.
Some Mariners fans whine about the fact that Ackley was taken over Mike Trout but keep in mind that Trout also didn't go until the 25th pick. He just wasn't a realistic option at the time. You can't blame them for that.
In retrospect, the first round of that draft was pretty weak, with only a handful of noteworthy players selected.
While Ackley was a bust, I never saw a fit for him in my top 10. Ackley was a 7.6 WAR player in his Mariners career and had some key contributions in the Mariners' magical 2014 run up to Game 162.
In the end, Ackley's hot college bat could just never properly translate to the Majors. Now he's just a Triple-A body for the Angels.
Miguel Batista signed a three-year, $24 million deal with the Mariners in 2006.
In 2007, Batista started 32 games for the Mariners and accrued a 2.2 WAR with a 4.90 xFIP. He was nothing spectacular, but he was a solid starter for a Mariners team that needed some stability in their rotation.
But Batista's production as a starter drastically declined and he was thus shifted to the bullpen, where he would also struggle. Batista finished 2008 with a -1.4 WAR but was still owed $8 million for his next season.
In short, Batista's spot on the 2009 Mariners was saved by his contract which the Mariners failed to offload. While his 2009 season wasn't as disastrous on his previous year, he was still extremely mediocre in the 56 games he pitched in.
Batista could never get right and was out of professional baseball by 2013.
As I mentioned earlier, Milton Bradley was acquired in the Carlos Silva deal with Chicago. One awful Mariner for another.
Bradley was notorious for his temper tantrums throughout his career. The only reason he stuck in the league for so long was due to how good of a hitter he was. That is until he joined the Mariners.
Before we dive further into his on-the-field issues, let me just say that Milton Bradley is an awful human being.
The only reason he didn't make my list is that he was too little of a factor for the Mariners teams he was on.
The temper tantrums continued in Seattle. In May 2010, Bradley was benched during a game and left the stadium before it ended.
Pair his attitude with a total fall-off at the plate and you have a player that has no business being on your team or any other. The Mariners recognized this a bit too late, releasing him early in the 2011 season.