The Drought, Part I: The 10 Worst Mariners Since 2001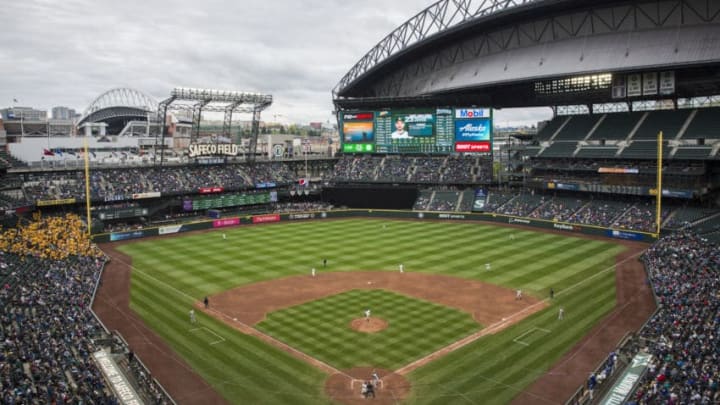 SEATTLE, WA - APRIL 15: A general view of Safeco Field as Felix Hernandez /
SEATTLE – JULY 29: Starting pitcher Erik Bedard #45 of the Seattle Mariners heads off the mound after being removed from the game in the second inning by manager Eric Wedge against the Tampa Bay Rays at Safeco Field on July 29, 2011 in Seattle, Washington. (Photo by Otto Greule Jr/Getty Images) /
William Joseph Bavasi, professional moron.
You all know the story. The Mariners got too cute and traded three All-Stars, including Adam Jones, for 46 starts of Erik Bedard.
Bedard was coming off a five-win season for the Orioles in 2007, making him a hot target in the trade market the following offseason. Don't get me wrong, Bedard was a solid pitcher for the Mariners. When healthy, he and Felix Hernandez were a dangerous one-two punch.
But that's the point: Bedard couldn't stay healthy. His production didn't make him the worst Mariner, but the injuries and the expectations surrounding him do. For what the Mariners gave up, they needed one of the best pitchers in baseball. Instead, they got a slightly above-average pitcher with shoulder problems.
In his recovery from shoulder surgery, Bedard only pitched three times, all in the Minor Leagues, in 2010. He was shut down and faced the end of his career.
Bedard was able to return to the Majors in 2011 with the Mariners, having a solid enough year to get traded to Boston at the Deadline. The Mariners didn't get much from the Red Sox in return, rendering Bedard's overall presence on the team useless.
Bedard went on to pitch three more seasons in the MLB for the Pirates, Astros, and Rays. He was mediocre at best and ultimately ended his professional baseball career on a low note.
The reason Bedard is #1 on this list is simple; when we think of the Mariners' long playoff drought, we think about Erik Bedard. We think about where this team would have gone if Adam Jones and Chris Tillman had stayed.
I think about riding in the car with my Dad, hearing the trade announced on the radio. The excitement we initially had, not knowing what kind of heartache this trade would end up causing.
While Mariners fans were met with several more playoff-less years, Orioles fans received a new hero who would lead them to an ALCS appearance.
Unfortunately for Bedard, he's at the center of our grief.