The Drought, Part I: The 10 Worst Mariners Since 2001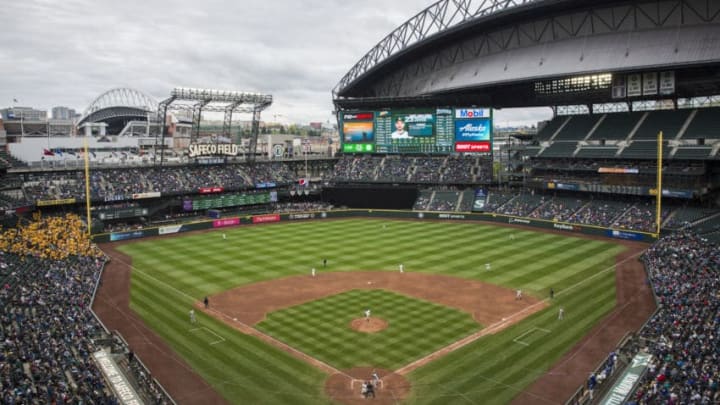 SEATTLE, WA - APRIL 15: A general view of Safeco Field as Felix Hernandez /
OAKLAND, CA – APRIL 06: Chone Figgins #9 of the Seattle Mariners stands in the dugout before their game against the Oakland Athletics at the Oakland-Alameda County Coliseum on April 6, 2010 in Oakland, California. (Photo by Ezra Shaw/Getty Images) /
Yes, we're at this part of the list now. This is just a sad situation at this point. We've tried to laugh it off and turn Chone Figgins into a meme, but there's no avoiding how disappointing this was.
Dee Gordon and Jean Segura are what we thought the combination of Ichiro Suzuki and Chone Figgins would be. Alternatively, we saw Ichiro get traded to the Yankees just two-and-a-half years after Figgins signed his deal, and the latter flew right off the handles.
Figgins was coming off a 6.5-win season for the Angels before signing a four-year, $36 million deal with the M's. At the time, the Mariners were getting of the MLB's premier players for a relatively affordable deal.
The highest WAR Figgins posted for the Mariners was 1.3 in his first season. The next year, he'd erase almost all of that with an unimaginable -1.2 WAR season. He finished that year slashing .188/.241/.243.
Figgins was a slap-hitter who couldn't hit. He didn't have the power to mask his awful numbers.
Before his numbers began to spiral out of control, his mentality did. This came to a head in July of 2010, when Figgins and then-Mariners manager Don Wakamatsu got into a heated exchange that incited a dugout brawl.
Figgins' poor attitude would continue for the rest of his time in a Mariners uniform, appearing visibly upset and uninterested most nights.
The Mariners experimented with Figgins quite a bit, trying him at second based, third base, and even the outfield. They were desperate because of what they had invested in him. They placed him in nearly every spot in the lineup but saw no change.
As his numbers never saw improvement, Figgins was finally DFA'd by the Mariners in 2012. In his Mariners career, he finished with a slash line of .227/.302/.283, inflated by his decent 2010 season.