Sodo Mojo's Mariners Round Table #4: Ichiro, Unsung Heroes and More!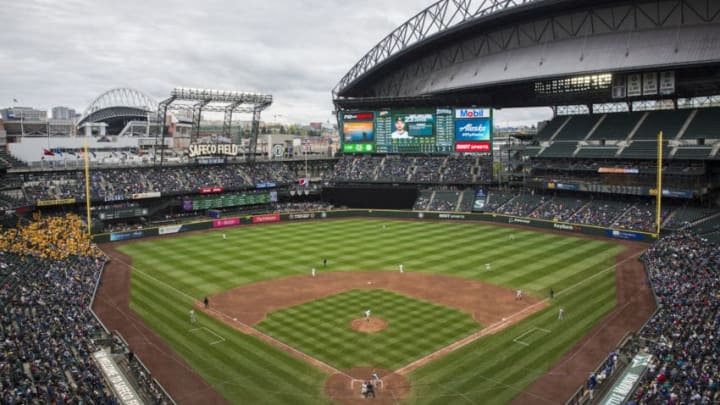 SEATTLE, WA - APRIL 15: A general view of Safeco Field as Felix Hernandez /
Question 3: What Do You Do With Ichiro When Ben Gamel is Ready?
SEATTLE, WA – APRIL 1: Ichiro Suzuki /
Ty Gonzalez:
While the logical decision is to DFA him, that's not what's going to happen. In a popular move (or non-move) to the casual Mariners fanbase, Ichiro will remain on the team for the foreseeable future, and one of Guillermo Heredia (a much younger, better player), Andrew Romine, or a reliever will be on the move when Gamel is activated.
That would be the wrong move, for obvious reasons. The Mariners should NOT do this. But they probably will.
Michael Johnson:
I know what I want the Mariners to do. Inform the fans they plan to recall Ben Gamel from his rehab assignment on Wednesday and a pregame ceremony will be scheduled for Tuesday night. I am pretty sure we'd all understand what was about to happen. At the said ceremony, allow Ichiro to take the podium and thank the fans of Seattle for bringing him into the league… and for ushering him out.
He's never been much of a talker, so you shouldn't need to schedule too much time but give him as much as he needs. Instead of inlaying the No. 51 into the dirt behind the second base bag per the Safeco Field norm, mow No. 51 into the right-field grass. For this night only, move Dee to the bottom of the lineup and insert the name Ichiro into the leadoff. Start Haniger in left field and send Ichiro out to the right-field grass one last time.
There, he can go through his pregame routine acknowledging his fans in the right-field seats with a tip of the cap and squatting into the infamous Ichiro stretch. I can already see the Ichi-meter lady's tears. Then, after leading off the bottom of the first inning with a slap single into left field – which he no doubt will do – pinch run Guillermo Heredia and send Seattle's beloved Ichiro into retirement. On Wednesday recall Gamel and get one step closer to a fully healthy roster.
Jeff Nooney:
If I was Jerry, I wouldn't have signed Ichiro in the first place. But, since he did, and Gamel comes back this week, the baseball guy inside says you have to DFA Ichiro. But, they won't. When Zunino comes back, either Frietas or Marjama will go down. They could send a reliever down for Gamel since they're carrying 9 bullpen guys or Taylor Motter. That's the route I think they will go.
Colton Swanson:
What do I do with Ichiro? That's the hardest question so far in 2018. I think Jerry put himself in a really hard situation when the time comes. I don't think he can be released. But he also doesn't have a spot on the roster unless the M's keep fewer relievers. I do like Ichiro as a pinch hitter late in games but 5 outfielders are a lot to have. In the best case scenario, to keep things from getting ugly, Ichiro would retire and go out as an M. But also, we can't rule out the fact that with the Mariners luck, one other Injury will arise that will allow them to keep Ichiro, even if it just for a bit longer.
Colby Patnode:
Cut him. Release him. DFA him. Terminate your relationship. Mutually part ways. Hand him a pink slip. Escort him off the premises. But do it in the nicest possible way. There is no space on this roster for him. He can't hit for any power. He is not a good defender. And nobody should be kept on a 25 man roster to be a "pinch runner", especially since Ichiro has lost several steps over the years.
In short, he provides no tangible value to your team. And save your BS argument about his leadership skills. First of all, you have no way of knowing how he works in the clubhouse. Second, in what world do the Mariners lack leadership? Are Nelson Cruz and Robinson Cano just terrible leaders? Please.
Stop trying to make Ichiro fit. He doesn't. He is the worst player on the 25 man roster, maybe even the 40 man roster. So of course, the Mariners will jam him into the roster, and might even give up on a younger, talented player to make it happen. The whole thing is a joke. There, was that subtle enough for you?
Dan Clark:
The Mariners painted themselves in this corner and I have a bad feeling it is going to divide the fan base in a big and negative way. I actually put up a poll on my twitter account (which is @danclarkmariner btw) which asked this very question. With 62% of people saying DFA Ichiro, which is my answer and the obvious baseball first decision. I'm not sure how they can do it but that's the smart decision. What surprised me is 20% of people said Heredia to AAA is ludicrous. Heredia is, at this stage a lot better player and helps this team so much more.