Sodo Mojo's Mariners Round Table #4: Ichiro, Unsung Heroes and More!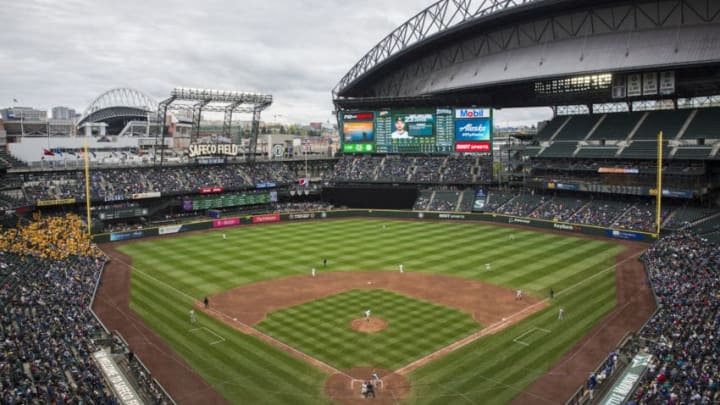 SEATTLE, WA - APRIL 15: A general view of Safeco Field as Felix Hernandez /
Question 2: Who is the Mariners Unsung Hero Thus Far?
SEATTLE, WA – SEPTEMBER 21: Dan Altavilla /
Ty Gonzalez:
Mitch Haniger, of course. One would assume I chose Mitch because of his go-ahead homer against the A's on Friday. No, it's because of how well he filled in for Nelson Cruz as the cleanup hitter. While the team struggled occasionally on the road trip, Haniger was a constant threat for this offense. Now tied for the American League lead in RBI (as of Sunday), Haniger has cemented himself as one of the premier sluggers on the Mariners.
Michael Johnson:
As a baseball guy I know to never talk about the no-hitter. It might be the most well-known unwritten rule of baseball. So as I type these words out, I do so with some hesitancy… okay, A LOT of hesitancy. With that in mind, as so many of us have done before, sitting in the dugout, far away from the man who is currently dealing on the mound, communicating indirectly with teammates about what is going on here, I will answer this question in a similar way.
With the offense performing the way they have (up until yesterday at least), I can't help but read the word "unsung" and think of the guy who is having the best season of any Mariner thus far, but is being overshadowed by the hot starts of Dee Gordon, Robinson Cano, Jean Segura, and recently Kyle Seager. And look, I get it. The guy has only gotten in 7 innings of baseball. But it's time to recognize the greatness that is taking place.
Not naming names here, but 7 IP, 0.00 ERA, 0 R, 1 H, 1 BB, 14 SO, and 6-for-6 in save opportunities is as good as it gets. In fact, again not naming names here, but I think that stat line is as sweet as "Sugar." Again, not naming names though.
Jeff Nooney:
The Mariners Unsung Hero award has got to be Dee Gordon. The attitude he brings to the clubhouse is infectious. Watching him beat out a throw for an infield single and giving a little dance afterward had me all excited. When a player scores, he is usually the first one to give a high 5. He has changed the culture in the locker room for the good, plus he has been on fire this season. No doubt it's Dee Gordon.
Colton Swanson:
*Clinches teeth* Don't you dare say anything about Daniel Vogelbach Colton. Dan… Altavilla has been nearly unstoppable in the pen and has made himself into a go-to reliever late in games. Honestly, if Diaz was to get injured, Altavilla might be the go-to guy in the closer role during that time.
Colby Patnode:
To me, it absolutely has to be Dan Altavilla. The Mariners bullpen has been disappointing, outside of Edwin Diaz and Altavilla. Altavilla is often the first man out of the pen, typically coming into high leverage spots in the 6th and 7th inning. He has only allowed 1 run in 7 appearances, striking out 9 along the way. He has been the bridge to the Mariners 7-8-9th inning pitchers and has helped the team locked down several wins already.
Dan Clark:
In my opinion, the Unsung hero award goes to Robinson Cano. His hot start, in my opinion, has helped the Mariners get off to a hot start so far. Although he is still looking for his first HR of the year he has been hot at the plate. The top third of the order has been electric so far and having Cano in the 3 spot has helped make the others around him better.