Sodo Mojo's Mariners Round Table #4: Ichiro, Unsung Heroes and More!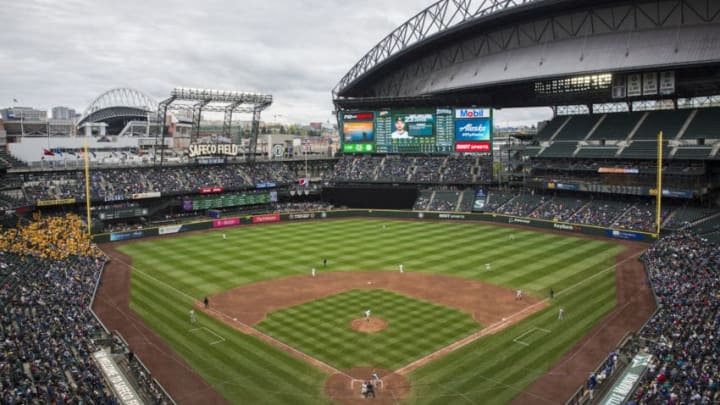 SEATTLE, WA - APRIL 15: A general view of Safeco Field as Felix Hernandez /
Question 4: Which Mariner Would You Deem The Biggest Disappointment?
SAN FRANCISCO, CA – APRIL 04: Felix Hernandez /
Ty Gonzalez:
Marco Gonzales. I said on our podcast that he had earned my confidence with the way he handled himself in Spring Training against good offensive talent. He has proven me wrong.
In his last two starts, Marco has been no less than an inconvenience for the Mariners. He has only pitched 5.2 innings while giving up eight runs in that time.
The first game led to a 10-0 blowout loss, while he was bailed out by the hot bats versus Oakland on Saturday. That kind of offensive performance should not be expected every fourth night of the season, therefore Marco has to turn this thing around or prepare to be sent down. He'll get plenty of chances from Dipoto and Servais to do so, though.
Michael Johnson:
It would have to be the bullpen – well, most of the bullpen. Outside of Eddie Diaz, Dan Altavilla and Chasen Bradford (who would still be in Tacoma if it weren't for injuries), the bullpen has been less than impressive. But the guy who has led the charge of disappointment in the 'pen has been Marc Rzepczynski. Since the season-opening series against the Indians Marc has made three appearances, totaling 1 IP, 4 H, 1 BB, 3 ER, 13.50 ERA and a massive 8.06 FIP. Not a good look for your lefty specialist.
Jeff Nooney:
The biggest disappointment for me this season is Juan Nicasio. Nicasio has given up a run is what seems to be every outing. His velocity has been down from last year, so you have to wonder if there is a bigger issue there. Granted, he's never pitched in the American League before, so there is a transition period. I'm not worried about him quite yet, but I am watching him a bit more closely.
Colton Swanson:
If I had to pick just one player that has been the biggest disappointment, I'd have to give the honor to Ryon Healy. He has plenty of time to turn that around obviously, and he needed more time coming back from hand surgery but he looked like a Double-A player facing Major League pitching for the first time to start the season. He looked as if he may have made some adjustments and got his timing down and then he ended up on the DL.
This time, on his way back, the M's need to keep him on a rehab assignment until they are 100% sure he has his timing back. There is no doubt in my mind that Healy is going to get it figured out and be a big part of the lineup. But so far, he's been tough to watch.
Colby Patnode:
The team has, in large part, exceeded my expectations. However, if forced to choose somebody, I'll have to go with Juan Nicasio. We have watched him struggle with both his command and velocity at times this season. It is early, but his groundball rate has dropped 20%, and his HR/FB rate stands at 20%.
Logically, we can expect both of these numbers to even out, but it doesn't help to struggle early when you are new to your team. The Mariners need a good bullpen to stay in the race beyond April, and Juan Nicasio might be one of the biggest x-factors in determining the success of 2018.
Next: Jackie Robinson Day: What It Means to Me
Dan Clark:
The biggest disappointment for me so far in 2018 has to Marc Rzepczynski. He struggled last year in the second half and that has continued so far this season. He needs to be better and quickly otherwise he will be out of a job real soon.