Mariners 2022 Report Cards: Grading the season for Julio Rodriguez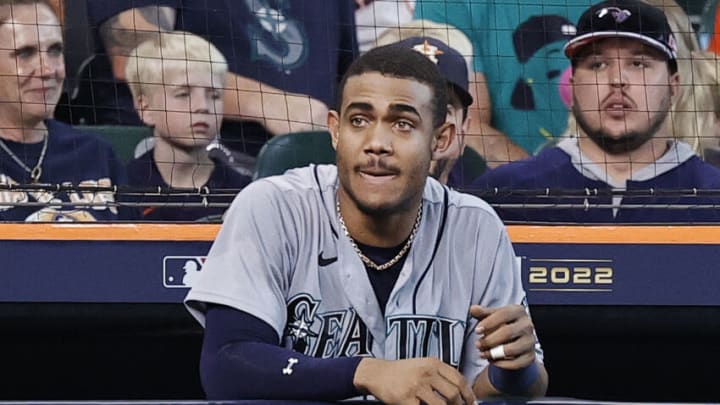 HOUSTON, TEXAS - OCTOBER 13: Julio Rodriguez #44 of the Seattle Mariners watches from the dugout against the Houston Astros in the Division Series at Minute Maid Park on October 13, 2022 in Houston, Texas. (Photo by Bob Levey/Getty Images) /
Whether or not you read all of the report cards that we put out this offseason for the Mariners or just one of them, this is the one that is a no-doubter, no-brainer, obvious grade to everyone with no arguments surrounding it. Without Julio Rodriguez, the 2022 Mariners likely wouldn't have made the playoffs, and their future would be much bleaker going forward.
Instead, the Mariners now have one of the brightest, most impressive, and leading candidates for becoming the face of baseball patrolling centerfield in Seattle, possibly for decades to come.
Julio Rodriguez gets an A+, a 100%, and a Gold Star for his 2022 report card
Was there really any doubt?
We will talk a lot about Julio Rodriguez during the offseason because he is the most fun player that has been on the Mariners since Griffey. Yes, he's more exciting than Felix or Ichiro, and honestly, I don't think that it is close.
When he was still a prospect, there were some quiet concerns over whether or not Julio would end up being fast enough to play good defense in the outfield. Not in center, either, but in one of the corners. Even more so, there were worries that as he got older and filled out, that he would slow down even more.
Oh buddy, were we all wrong.
First, reports started coming out that his speed was increasing. Then, he beat Victor Labrada in a footrace (reportedly) at camp during the winter months. Why does that matter? Some thought Labrada might be faster than Jonatan Clase, and that he was in the running for the fastest prospect in the Mariners system.
That sure doesn't sound like a 50-grade runner to me.
Julio impressed during Spring Training and pairing that with the new CBA rules that give a team extra money and a potential first-round pick for having a rookie break camp with the team and then finishing in the top 3 of ROY voting, and Julio was on the team to start the season.
It was rough to start. Part of that was the fact that he was 21. However, a big part was that he had horrendous luck on called third strikes. Something like 9-10 in the first couple of weeks that were balls and called strike three. Through eight games, Julio was hitting .107/.194/.143 with zero HR, 2 SB, and 16 K in 28 ABs.
Then, things changed.
Julio would show off his speed and steal 17 bases over his next 60 games, and actually lead baseball in steals for a while. He got great jumps all season, and if he can figure out how to stay on the bag while sliding, he would've had an extra 4-5 steals.
After those first eight games, Julio would hit .294/.354/.530 with 28 HR and 23 SB. The accolades he obtained during this season were incredible, and arguably the most notable was the first rookie to go 25/25 during his debut season, joining Chris Young and Mike Trout who did it as rookies, but with a bit of experience the season prior.
You would think that a young rookie like Julio might struggle at the end of the year as well as they approach the rookie wall. It was the opposite for Julio, as he would actually hit .394/.456/.747 in September with 7 HR. I've given you a lot of piecemeal stats for his season. Here is how he finished when it was said and done.
.284/.345/.509. 147 OPS+. 28 HR, 25 SB, 25 2B, 84 R, 75 RBI, 6.0 WAR, 0.5 dWAR
There is a small part of me that wants to say that Julio playing above-average defense in center, when it's a position he was never expected to be able to play much less succeed at, is more impressive than the offense. I can't, though. Julio put together a historic Mariners season.
Notice I didn't include Rookie in that last sentence.
Sure, the Mariners don't have a long and storied history of dominant players. There is Griffey, Edgar, Ichiro, and A-Rod, with a smattering of steroids… I mean second baseman, thrown in there. There have only been 25 seasons in Mariners history where a player amassed a WAR of 6.0 or greater. Julio Rodriguez is now one of them.
Everything Julio did this year was incredible. The A+ for him is the easiest grade we are going to give out all offseason, and I cannot wait… literally counting down the days cannot wait, until next season comes. Watching Julio is going to be an incredible experience for years to come.