Mariners 2022 Prospect Rankings: #16 Michael Morales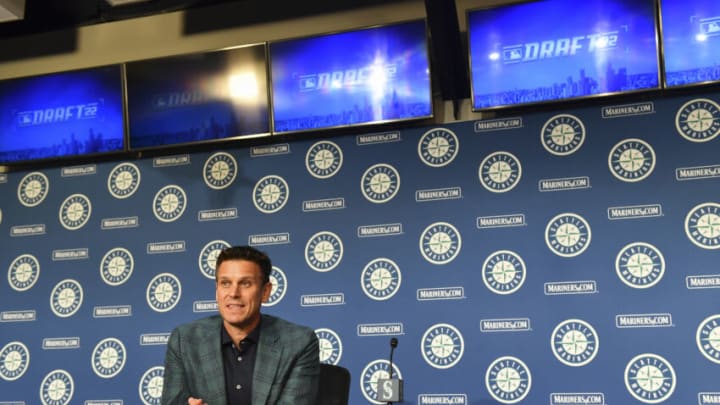 SEATTLE, WASHINGTON - JULY 17: Baseball Operations President Jerry Dipoto of the Seattle Mariners addresses the media after picking SS Cole Young 21st overall in the 2022 MLB Draft at T-Mobile Park on July 17, 2022 in Seattle, Washington. (Photo by Alika Jenner/Getty Images) /
At #17, we talked about Isaiah Campbell, one of the oldest prospects in the Mariners system, and someone who had transitioned from a starter to a reliever. It affects where he was ranked, but with how close he is to potentially making the majors, it kept him at a strong number in my book. At #16, we have someone in a much different position. It's 20-year-old Michael Morales.
There is a part of me that wants to rank Morales much higher than #16. He just turned 20, was going to go to Vanderbilt, and has a clean, efficient, and easy delivery. There is a ton to like about Morales, but there is also some room to grow.
Michael Morales comes in at #16 in our Mariners Prospect Rankings
The Mariners drafted Michael Morales in 2021, taking him in the third round. They were able to snatch him away from Vanderbilt by signing him above slot, and he immediately jumped into the Mariners top 30 prospects.
Throwing in the low-90s, Morales is definitely on the low end of velocity. He did just turn 20, so there is some room to grow and gain a couple of ticks on the fastball. It does help that his fastball has a fair amount of movement on it. If he can carry that movement with him as the velo ticks up, it will make him a lot more dangerous.
Morales does have four pitches, although he doesn't throw his 4th pitch, the change, as much as the others. The change does have some nice bite, but he needs more practice with it in-game. His curve is right there with the fastball as his best pitch and has a lot of break. It's nice seeing the control with it, although he has struggled a bit in 2022 at Modesto with his overall control.
He also features a slider, but it's nowhere near as effective as the curve. There is one thing we know about the Mariners though, and it's how much they love their pitchers using sliders.
Fastball – 55
Slider – 40
Curveball – 55
Changeup – 45
Control – 45
Overall – 45
His season is about done, as he has already racked up an impressive 107.1 IP on the season with a week left in August. A BB rate of nearly 4 is a bit concerning, but the fear is tempered a bit by a K rate just north of 9.
It's likely that Morales starts 2023 in Everett, moving up to the Mariners High-A affiliate. He will be 20 for nearly the entire season (August 13th is his birthday), and will be about 3 years younger than the average player in High-A. Morales is definitely down below the Mariners top pitching prospects, and his growth will be the biggest indicator of his ability to catch the likes of Hancock, Miller, and Dollard.