Ranking the Best Left Fielders in Seattle Mariners History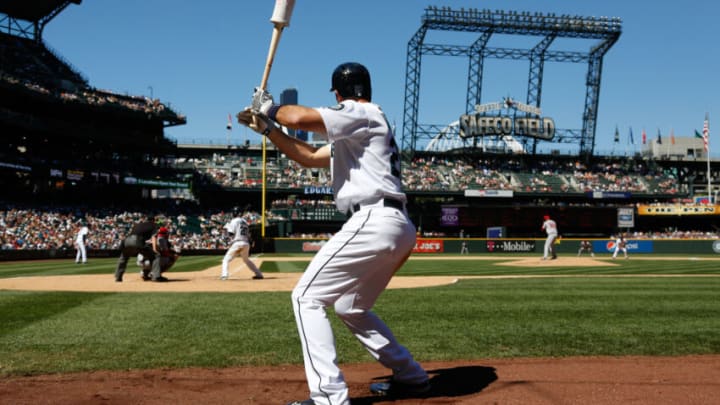 SEATTLE, WA - JULY 14: Raul Ibanez #28 of the Seattle Mariners waits to hit in the on-deck circle against the Los Angeles Angels of Anaheim at Safeco Field on July 14, 2013 in Seattle, Washington. (Photo by Otto Greule Jr/Getty Images) /
NEW YORK – MAY 14: Raul Ibanez #28, Randy Winn #2, and Ichiro Suzuki #51 of the Seattle Mariners wait during a pitching change in their game against the New York Yankees on May 14, 2004 at Yankee Stadium in the Bronx borough of New York City. (Photo by Al Bello/Getty Images) /
Mariners #3 LF: Randy Winn – 8.8 fWAR
Randy Winn came over to the Mariners in one of the weirder trades that you will ever see in modern-day sports. There are stories from back in the day about players being traded for bats, baseballs, cash to pay off owner debts, and all kinds of crazy things. Well, in October of 2002, the Mariners acquired Randy Winn from the Rays and sent them utility-man Antonio Perez as well as their coach, Lou Pinella.
Yeah, I had completely forgotten about that part. Pinella was ready to leave the Mariners and the team was able to send him away to a place that he actually wanted to go. In return, they got a darn good outfielder who was coming off an incredible season.
Randy Winn had just put up a 4.6 fWAR season with the (at the time Devil) Rays. Randy Winn was an incredibly good player for many years, and the M's were able to benefit from having him on the team for 2.5 years. It's hard to tell which year was his best because they are pretty similar.
2003 – .295/.346/.425. 11 HR, 23 SB, 103 R, 75 RBI, 109 WRC+, -1.7 DEF
2004 – .286/.346/.427. 14 HR, 21 SB, 84 R, 81 RBI, 106 WRC+, 8.6 DEF
His offense was a bit better that first year, but the defense was much better in year two. He was only here for 2.5 years, but he still makes the list as the third-best LF in team history.