Ranking the Best Left Fielders in Seattle Mariners History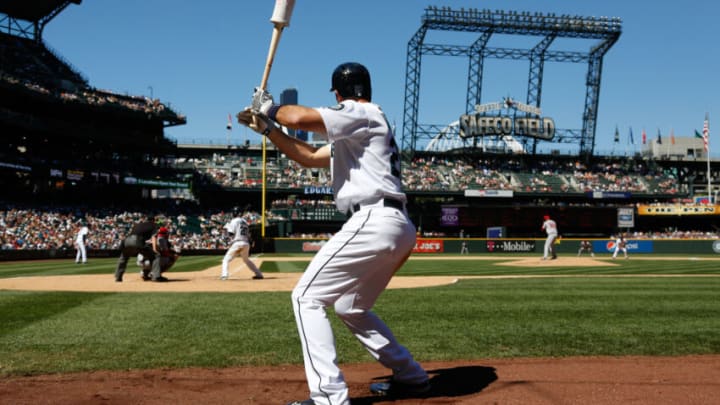 SEATTLE, WA - JULY 14: Raul Ibanez #28 of the Seattle Mariners waits to hit in the on-deck circle against the Los Angeles Angels of Anaheim at Safeco Field on July 14, 2013 in Seattle, Washington. (Photo by Otto Greule Jr/Getty Images) /
Seattle Mariners players Mark McLemore (L) and Ichiro Suzuki (R) celebrate after winning against the Anaheim Angels 5-3 in Anaheim, CA, 30 June 2001. AFP PHOTO/Lucy Nicholson (Photo by LUCY NICHOLSON / AFP) (Photo credit should read LUCY NICHOLSON/AFP via Getty Images) /
Mariners #4 LF: Mark McLemore – 6.9 fWAR
Mark McLemore came to the Mariners in 2000 as a 35-year-old utility man. He's played a lot of LF and 2B, some RF, a bit of SS and 3B, and a dash of CF in his career. He'd had two seasons in 14 years of higher than 90 WRC+, still had solid defense, and a bit of speed left in the tank. Well, that's what it seemed at least.
It turned out that there was a lot more speed left, as he would go on to steal 30-39-18 during his first three years in Seattle. Alongside those 87 steals, he would hit .266/.371/.368 over his first three seasons, with a combined 6.3 fWAR.
The highlight year was 2001 (odd that so many people played well that year), and it was the best offensive season of his career. He would have a 188 WRC+ in both 2001 and 2002 but had 72 more ABs in 2001, so I give that the nod. He set a career-high with 39 SB, drove in 57 RBI (2nd), and had 9 3Bs which was a career-high and good enough to T-10th in all of baseball.
His slash was great as well, going .286/.384/.406, just four and six points shy of being career highs. A large part of his success came from the career-high .344 BABIP, but that's something you worry about for sustained success from year to year.
McLemore just qualifies for LF as he played 145 games at 2B, 79 at 3B, 74 at SS, and 175 in LF. Also, I think of him as an LF and it's my list. So you can direct your complaints to the comments if you want him at second base (where he would've been number five and kicked off Ackley).
Also, oddly enough, he played for six teams in his MLB career but managed to play for all five teams in the AL West. (Houston wasn't there then, but you get the point).