Ranking the Best Left Fielders in Seattle Mariners History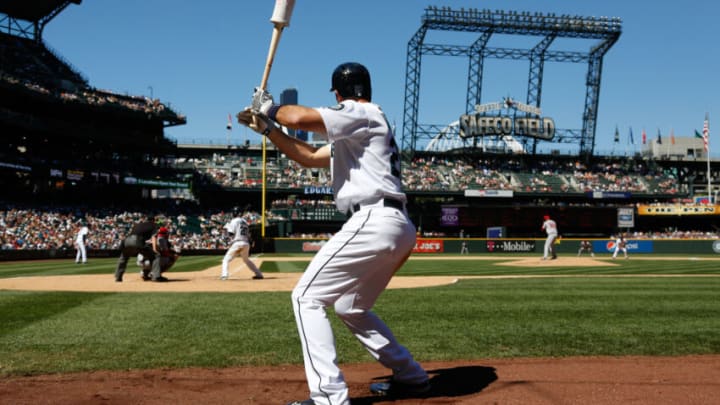 SEATTLE, WA - JULY 14: Raul Ibanez #28 of the Seattle Mariners waits to hit in the on-deck circle against the Los Angeles Angels of Anaheim at Safeco Field on July 14, 2013 in Seattle, Washington. (Photo by Otto Greule Jr/Getty Images) /
When we get to Mariners Left Fielders is when it starts to get confusing. Outfielders move around a lot, and it can be tough to nail them down to a specific position. Still, it's more fun to look at the best by position than it is by labeling it just best outfielders. Part of the reason I've enjoyed doing this is to remember some of the lesser-known players. If I did just "outfield" you'd run into only the usual suspects, and there wouldn't really be surprises on the list.
Again, this isn't the best player to suit up and play at a position. Rickey Henderson played left for the Mariners, but that doesn't mean he was the best to do it because we are looking for the best-left fielders WHILE on the Mariners.
There are some fun ones to check in on before we get to the top 5. The first two that I wanna talk to may not be in the top 10 of Mariners Left Fielders, but they definitely need to be mentioned. Glenallen Hill (0.9 fWAR) played with the Mariners for just 74 games, but his stance was an all-timer. I can't find any videos with him on the team, but he was a joy to watch.
Then, there is Griffey Sr. He finished his career with the Mariners, playing in Seattle for two years. He was still decent as a 40/41-year-old, but my favorite highlight of him is the one where we got to see Jr's playfulness on full display.
Then we get to the guys who just missed out on the list. There are a lot of players who ended up in the 1.5-1.9 range, so I picked out a couple that I wanted to talk about. There's Jose Cruz (1.5 fWAR) who played just 49 games for the Mariners. This seems like one of the larger misses, or at least missed opportunities, by the Mariners from the 90s.
They had drafted him just two years prior, and after a hot start to his rookie season, they would trade him to the Blue Jays for Paul Spoljaric (0.4 fWAR) and Mike Timlin (2.1 fWAR). Spoljaric wouldn't ever do much, and Timlin would leave in free agency after 1998. Cruz would go on to a lengthy career, playing another decade and amassing 17.6 fWAR after leaving the Mariners. He also had a 30/30 season in 2001, which I completely forgot.
Nori Aoki (1.6 fWAR) came to the Mariners in 2016, a late entrant to MLB after playing overseas. He has a handful of strong seasons under his belt and would turn in another in his lone season with the Mariners. I remember hoping that they would keep him around for another year, as he was an okay defender with a decent hit tool. He left, and the team played Ben Gamel in 2017 in LF, so it worked out alright.
Lastly, it's Stan Javier (2.7 fWAR). He was only here for 2 seasons and played just 194 games, but he was good while he was here. Especially during the magical 2001 season. He amassed a 2.6 fWAR that year, the 11th best mark ever by a Mariners left fielder. At age-37, he had his 3rd best defensive season and his second-highest WRC+ (112) and would call it quits after that and retire from baseball.
Let's get into it. Here are the top 5 Left Fielders in the history of the Seattle Mariners.