Ranking the Best Left Fielders in Seattle Mariners History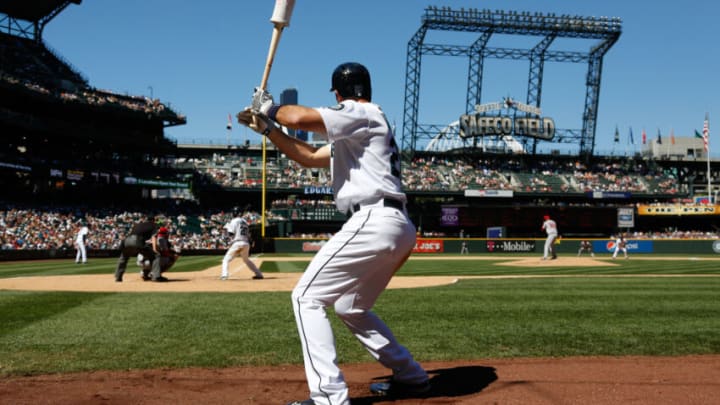 SEATTLE, WA - JULY 14: Raul Ibanez #28 of the Seattle Mariners waits to hit in the on-deck circle against the Los Angeles Angels of Anaheim at Safeco Field on July 14, 2013 in Seattle, Washington. (Photo by Otto Greule Jr/Getty Images) /
NEW YORK – CIRCA 1981: Tom Paciorek #44 of the Seattle Mariners bats against the New York Yankees during an Major League Baseball game circa 1981 at Yankee Stadium in the Bronx borough of New York City. Paciorek played for the Mariners from 1978-81. (Photo by Focus on Sport/Getty Images) /
Mariners #5 LF: Tom Paciorek – 7.3 fWAR
I'm dropping Paciorek down to #5. Not just because I played against his nephew in high school and the guy wasn't the most enjoyable person, but because he had one fantastic season, and was pretty average other than that. Pretty average as an MLB player is still darn impressive, but I'm still moving him down to #5.
That season happened in 1981, his final year with the Mariners. It was easily his best season, and nothing else comes close. He would put together a slash line of .326/.379/.509, all of which would end up as career bests. He also hit 14 HRs, stole 13 SB, and drove in 66 RBI. If not for his 15 HR season the year before, they all would have been career highs as well.
Even more impressive was that he did this in just 104 games. It was actually one of the best offensive seasons we've ever seen from a Mariners player if you look at it through the window of WRC+ or OPS+. He had a 152 WRC+ and a 151 OPS+, good for the 19th best mark in team history, regardless of position. In fact, there are only six men above him at all on the list, which is an incredibly impressive feat.
It sounds like an incredible season, and it was. Unfortunately, it was his last one with the team. I knock him down a bit for having such an outlier, but I can only imagine how fun it would be to see a guy have a season like that out of nowhere. Cough Jake Fraley Cough.
The Mariners would trade him away for a trio of players from the White Sox. Jim Essian had a decent single season at catcher for the Mariners, Rod Allen never did anything, and Todd Cruz was unable to accomplish much either. Paciorek would have two good seasons with the White Sox, and then finish with 4 negative fWAR seasons in a row to end his career.