Mariners Prospect Profiles: Cade Marlowe is a stud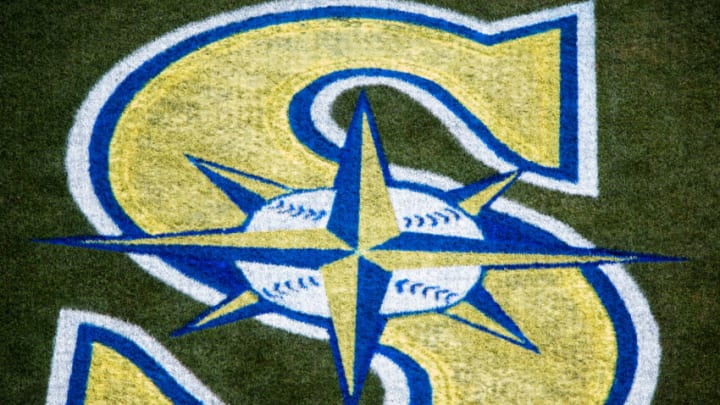 SEATTLE, WA - JULY 09: The Seattle Mariners' logo is painted in throwback colors for their Sunday day game against the Oakland Athletics at Safeco Field on July 9, 2017 in Seattle, Washington. The Seattle Mariners beat the Oakland Athletics 4-0. (Photo by Lindsey Wasson/Getty Images) /
The Mariners have a ton of good prospects. Most places haven't come out with new team rankings, so if someone is outside of the top 100, it's hard to tell where they are going to be. There's another outfielder who is trying to enter contention for the M's after a strong 2021, and it's Cade Marlowe.
He was a 20th round pick in 2019. They sent him to Everett, and he made a big impact for someone getting their first taste of minor league baseball. He would hit .301/372/.438. Marlowe was building great momentum and looked poised to enter the conversation for young Mariners outfielders who would soon, potentially, be fighting for time in the bigs.
Then 2020 happened. He would go to Modesto in 2021 (Normal A-ball), and continue to hit well. In fact, he would actually hit .301 again. There was a big change though. His OBP was a good amount higher (.406) and his slugging made a massive leap up to .556.
For his next promotion, he would have another slash line stat stay the same. His SLG would stay at .556 over 71 games and 286 ABs at Everett (remember, in 2019 Everett was low A. Now, it's high A) in large part to his 20 HR and 18 2B. In fact, Marlowe was one of the few players in all of minor league baseball who would put together a combined 20/20 season across the levels he played in.
Oh yeah, I forgot to mention. Cade Marlowe has speed as well.
After 6 HR and 11 steals in Modesto, he would jump to 20 HR and 12 SB in Everett, finishing with a total of 26/23 on the season. He did drop to .259/.345 in Everett, but showed he could square it up quite well with the power numbers. There is a bit of a worry about the strikeout numbers, as he struck out nearly 30% of the time in Everett this year. For a 20-year-old, that's not that bad. Marlowe was 24 though, so it could be a bit of an issue.
2022 is going to be a huge opportunity for Cade Marlowe. He is going to be 25 in June, so this will be his age-25 season. It's likely that he starts the year in Arkansas, and will be a name to watch for someone who could push Deloach, Trammell, Fraley, and Moore for playing time in late 2022 or 2023.
I do understand that there is a worry about his age. However, when you are an older drafted player and you miss out on an entire season because of what happened in 2020, it's a lot easier to grasp. Marlowe just keeps hitting and has the speed to play a decent center. If anything, he can slide to a corner spot since he does bring the speed/power combo if his glove/fielding doesn't translate to the major league level in center.
Don't worry too much about the age for Cade Marlowe. The Mariners have a lot of OF depth, and he will get his shot this year. Look for Marlowe to impress in 2022, and be given a real shot at the mid-to-high levels of the Mariners minor league system to prove that he deserves a shot at making it to The Show.