Mariners Prospects: Cade Marlowe is having a great season
There are plenty of Mariners prospects that most fans know. Julio Rodriguez, Noelvi Marte, Emerson Hancock, and George Kirby. There are others that a lot of fans will still know and recognize, in large part to the Mariners having one of the best farm systems in baseball. However, there is one player that more and more of us should likely get familiar with. Cade Marlowe.
You'll see his name down near the bottom of the MLB prospect rankings for the Mariners, as he sits 27th in their system. Drafted in the 20th round in 2019, he was already older than average for those he was playing with at Everett (at the time, it was Low-A) that season. He showed good speed, a good bat, and a tiny bit of pop. 3 HR, 10 SB, and a .301 BA in 219 ABs.
Cade Marlowe has made strides for the Mariners this season across two levels in the minors.
Oddly enough, he hit .301 again to start this year at Modesto (A-Ball), but with a bit more pop. He was promoted to Everett (Now the High-A level) and has shown good power while keeping his speed. He's actually become one of those rare players each year in the minors that have amassed a 20/20 season.
If you aren't sure how much of a big deal you should make about Cade Marlowe reaching that 20/20 number… well, there is actually a statistic that should make you feel pretty good about it.
.271/.355/.550 in 362 ABs. 20 HR, 91 RBI, 21 SB, 9 3B. That's real power and real speed. The power has actually shown more since getting to Everett, where he has hit 14 HR in 229 ABs. It's a great sign for the 24-year-old and could put him in line for a late trip to Arkansas potentially. There are about three weeks left for the Travellers, so the Mariners could move Marlowe up once again to see what he can do at AA.
He does strike out a lot, which makes for an odd combo seeing a player with great speed, great power, a lot of extra-base hits, and a good eye (walk rate is 11-12%). If you want to look at it this way, every at-bat is going to be exciting for Marlowe.
I'm excited to see what the team does with him. As the tweet above expresses, players that have a 20/20 season in the minors make the bigs 93% of the time. Marlowe is likely going to be a left fielder but could do some time in center if the arms plays. He has all the tools, but if he can't cut down on the strikeouts, he will struggle.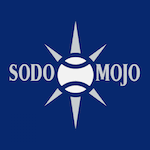 We do know this though. Cade Marlowe is jumping up the prospect boards and gives Mariners fans another fun youngster to watch as he climbs through the system.