Emerson Hancock: Get to know the "other" Mariners pitching prospect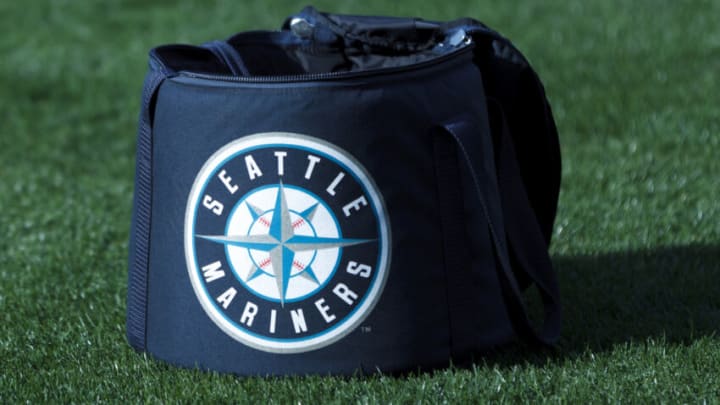 OAKLAND, CA - APRIL 03: Detailed view of a Seattle Mariners logo baseball bag on the field before the game against the Oakland Athletics at O.co Coliseum on April 3, 2014 in Oakland, California. The Oakland Athletics defeated the Seattle Mariners 3-2 in 12 innings. (Photo by Jason O. Watson/Getty Images) /
The Mariners haven't had a lot to be happy about throughout the years, especially since 2001. It seems set to change in the upcoming seasons with the arrival of Logan Gilbert, George Kirby, and the "third" pitching prospect, Emerson Hancock.
Now, I call him the third one, not because of his supposed level of skill or ranking, but because he is the one that was taken most recently. Hancock was the team's first-round pick, and sixth overall, in the 2020 draft. It's entirely possible that he could end up as the leader of the prospect trio.
Emerson Hancock profiles to be the next ace of the Seattle Mariners rotation.
When you take a look at a pitching prospect, there are a few things to look for. The type of pitches that they throw, how many pitches they throw, and their command. If a guy comes out of college with a two-pitch mix and nothing else, it's likely he gets turned into a reliever instead of a starter. The stuff could be nasty, but hitters figure it out from seeing it so often.
With Hancock, that is far from the case. He actually has a five-pitch mix and throws them all well. It's not just that they are serviceable, but that he actually has the potential to throw them all as Plus pitches. Yeah, that's incredible for someone who turned 22 in May.
It starts with the fastball… well, fastballs. He's got the hard 4-seamer, which sits in the mid-90s and can touch high 90s. He's paired that with the ever-so-popular 2 seamer/sinker fastball that many seem to be throwing now. Guess what? He throws it at about the same speed. So you're getting 97 at the top of the zone, or a dirty breaking heater on your hands.
The fastball/s are his best pitch, but not by far. The grade out as nearly plus-plus, which is all-star level. Then comes the changeup. Pairing that with the sinking 2-seamer, you have balls that move similarly with ~10 mph difference. He has a slider that sits in the mid-80s that he uses as an out pitch.
I'm already salivating about this pitch mix, and we haven't even gotten to the power curve. Yeah, he throws that as well. When you have a hard slider and a power curve that are nearly plus pitches already, and you throw them as your fourth and fifth pitches? Mariners fans are in for a treat.
If you're sitting there thinking, "ok, so he has a lot of pitches that move a lot, chances are he isn't accurate then. That's usually the case", I'm sorry, but that isn't the case either. His control is pushing on plus as well, meaning that he can locate all of his pitches well.
There's a reason that Hancock went 6th overall in the draft. He's got incredible stuff, a great mix of pitches, and good control as well. There's no weak spot in his game and gives Mariners fans something wonderful to look forward to. Logan Gilbert has impressed a lot in 2021 so far. What's insane to think, and I'm going purely off of rankings and scout talk here, is that Kirby is supposed to be better than Gilbert, and Hancock is supposed to be better than both of them.
We likely won't have to wait long to see Hancock, as he is supposed to make his debut sometime in 2022. You can tell that the Mariners are taking it easy and thinking long-term with him, as they held him out of the Futures Game with a tender shoulder a.k.a. they want to limit his innings, and are focusing on his long-term health instead of what is essentially a showcase game.
If you can, find some footage of Hancock online. Even better, head out to Everett and see him pitch, where he is sporting a 2.30 ERA through 27 innings pitched so far t
his year. I know I'm looking forward to it because I truly believe the Mariners next ace is going to be Emerson Hancock.