Mariners: 3 Possible Catcher replacements for Tom Murphy this offseason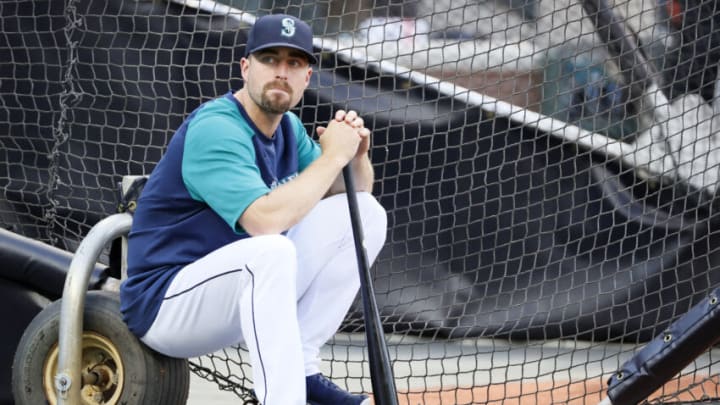 SEATTLE, WASHINGTON - OCTOBER 02: Tom Murphy #2 of the Seattle Mariners looks on before the game against the Los Angeles Angels at T-Mobile Park on October 02, 2021 in Seattle, Washington. (Photo by Steph Chambers/Getty Images) /
SEATTLE, WASHINGTON – OCTOBER 02: Tom Murphy #2 of the Seattle Mariners looks on before the game against the Los Angeles Angels at T-Mobile Park on October 02, 2021 in Seattle, Washington. (Photo by Steph Chambers/Getty Images) /
During the 2021 season, most fans can agree that it was a frustrating experience watching the Mariners catchers. That was to be expected a bit with Cal Raleigh, who was getting his first taste of the major leagues. Rookies struggle, so his numbers should be taken with a grain of salt. It was the man he split time with, Tom Murphy, that provided heartburn for fans.
After a great 2019, I know I was one of many Mariners fans that were hoping for another strong season from Tom Murphy. Maybe not another .270/.320/.530 line, but a good season somewhere in the .240/.310/.480 neighborhood. Good offense, a fair amount of pop, and someone who could catch the ball. That was everyone's biggest issue with Murphy. If the ball was coming from anyone other than the pitcher, he seemed unable to hold on to it.
Cal Raleigh is going to be back, there is no question about that. Murphy, on the other hand, is eligible for arbitration, and it will be interesting to see how the Mariners handle him. They could hope that he rebounds a bit, remembering how to catch the ball, and gets back to acceptable to above-average offensive numbers. He had a good walk rate in 2021 (12.3%) but a slash line of .202/.304/.350 left a lot to be desired with just 19 extra-base hits in 277 ABs.
With a lower exit velocity, hard-hit rate, and line-drive rate, it feels like it's time to look for someone else to sign with the Mariners to split time with Cal Raleigh. Let's look at three potential replacements for Tom Murphy that the team could go after this offseason.