Mariners Rumors: Trading with the Cubs for Kris Bryant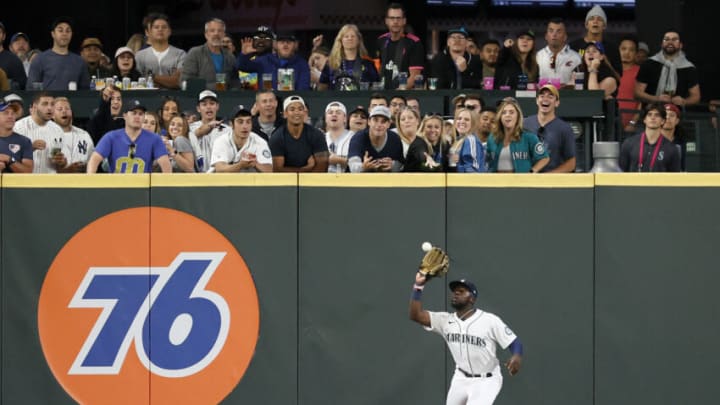 SEATTLE, WASHINGTON - JULY 07: Taylor Trammell #20 of the Seattle Mariners in action against the New York Yankees at T-Mobile Park on July 07, 2021 in Seattle, Washington. (Photo by Steph Chambers/Getty Images) /
SEATTLE, WASHINGTON – JULY 07: Taylor Trammell #20 of the Seattle Mariners in action against the New York Yankees at T-Mobile Park on July 07, 2021 in Seattle, Washington. (Photo by Steph Chambers/Getty Images) /
I'm going to start off by saying that, personally, I don't think that the Mariners would trade for Kris Bryant. He's a Boras client, and is going to want a boatload of money this summer. You could easily argue he deserves it, but you could just as easily sit on the other side of that fence and argue against it.
It would be much better to just wait until the offseason and sign him them if that was your plan. Trading for him now, where you would still have to give up legitimate pieces, would be awful if he ended up walking after the season. Bryant is an all-star caliber player, a former MVP, has multi-positional flexibility, and is still just 29-years-old.
Kris Bryant would be a high risk/reward add for the Mariners
However, if you could guarantee that he was going to stick around (maybe a wink wink nudge nudge during the trade) then it wouldn't be an awful idea to go get him. I'm still not a fan, but I can understand the reasoning.
So, I went over to baseballtradevalues.com and used their trade simulator to find deals that came out nearly even in value. It can be a fickle tool, as it's easy to over/under rate players based on your personal opinion, but they do have a good success rate with their values as compared to trades that occur in real life.
Out of all the ones we've put together (Frazier, Berrios/Cruz, etc.), this is the one that is the hardest to wrap my head around. Let's dive in and see what it would take for the Mariners to get Kris Bryant away from the Chicago Cubs… gulp.