Mariners Prospects: Getting to know Pitching prospect Levi Stoudt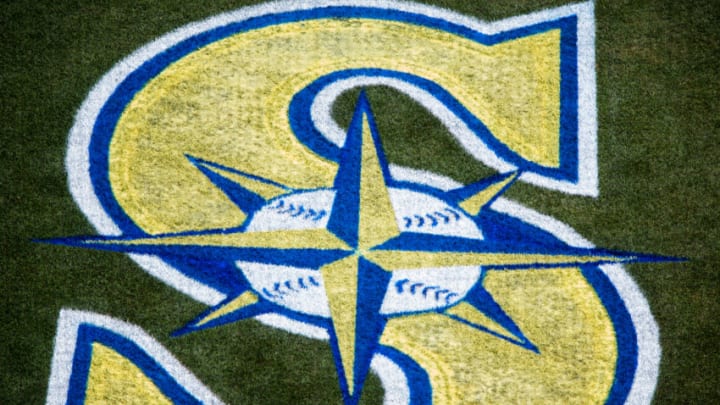 SEATTLE, WA - JULY 09: The Seattle Mariners' logo is painted in throwback colors for their Sunday day game against the Oakland Athletics at Safeco Field on July 9, 2017 in Seattle, Washington. The Seattle Mariners beat the Oakland Athletics 4-0. (Photo by Lindsey Wasson/Getty Images) /
We all know the Mariners top trio of pitching prospects, Emerson Hancock, George Kirby, and Logan Gilbert. However, there are more prospects than just those three that we should know about. Today, we are going to take a look at Levi Stoudt.
We already met Brandon Williamson, who got called up soon after we wrote about him. All he did was throw an immaculate inning once he was called up… no biggie. Since he left Everett, it's time to focus on Levi Stoudt, who might be the most exciting pitcher after Williamson's departure.
Levi Stoudt is having an incredible season for the Mariners so far in 2021.
Levi Stoudt was in an odd situation this year before starting his season for the Mariners. He was a high draft pick, taken in the 3rd round by the Mariners, and had Tommy John shortly after. He had yet to throw a professional inning, but was already appearing on prospect watch lists, from 18th for the Mariners on Prospect Insider, to 12th over at MLB.com.
Part of that may have been from a couple of tweets. One, he hit 102.9 on pulldowns during the winter, showing that his arm and strength were back in full force. Although there is no specific formula, thinking somewhere in the high 90's and potentially touching 100 would be reasonable from that number.
Second, Dipoto tweeted that Stoudt was the most under-the-radar prospect on the Mariners. That's some high praise from your GM. Stoudt talked about both of those and more in an interview before the season started.
After a slower start than some may have hoped this year, Stoudt has been doing quite well as of late. His start wasn't even bad, it just paled in comparison to the numbers Williamson was putting up (a K rate near 18 per 9), and Matt Brash, who had 48 K's in 30 innings with an ERA under 3.00.
Now, Stoudt has his ERA under 3.00 as well. The change has been highlighted by his recent performance. Over the last four starts, he has logged 5+ in each, giving up just five runs for an ERA of 2.04. He's also striking players out at a rate of 11.4 K per 9. The only issue has been his walk rate, as he has issued 13 free passes during that time. He has only given up 15 hits though, for a WHIP of 1.267.
I mentioned the heat that he throws earlier, but that isn't even his best pitch. That would be his changeup, which has been given a current grade of 60. With the fastball at 55, and both the curve and slider at 50, he has the potential for a great repertoire. If he can manage the control a bit, Levi Stoudt could be a guy we see climb the rankings quickly.