3 Seattle Mariners Players that Beat 2020 Expectations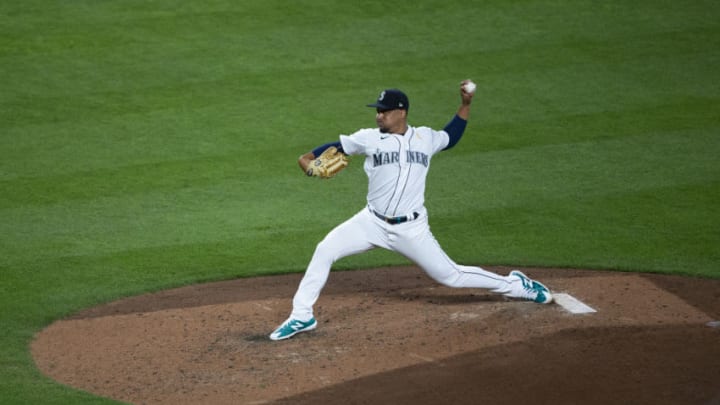 SEATTLE, WA - SEPTEMBER 05: Justus Sheffield of the Seattle Mariners pitches. (Photo by Lindsey Wasson/Getty Images) /
SEATTLE, WASHINGTON – SEPTEMBER 23: Justus Sheffield of the Seattle Mariners watches play. (Photo by Abbie Parr/Getty Images) /
Justus Sheffield
Justus Sheffield was another player that outperformed expectations. Sheffield had not found success in the big leagues yet, and many including myself were concerned with whether he can be a starting pitcher. I had the feeling that he would be moved to the bullpen after watching him pitch in 2019.
In 2019, he started 7 games and posted a 5.50 ERA. The highly-touted prospect gave up a lot of hits and walks in his first season with the Mariners. The former 1st round pick in 2014 had some clear adjustments to make for 2020. Going into 2020, I kept my expectations low for Justus because he is still young, and trying to figure out the quirks.
In his first start this year, he gave up four runs in three innings. He walked four batters and only struck out two. I immediately thought it was going to be another 2019 kind of season for Sheffield. But, he bounced back and became more consistent.
In the month of August, he posted a 3.95 ERA and struck out 27 batters in 27.1 innings. Pretty good right? Then in September and October, he posted a miraculous 2.16 ERA which even propelled him into the ROY voting conversation.
In all, he finished 2020 with a 3.58 ERA and 0.8 WAR. This was a much better stat line than I expected. Sheffield was able to decrease his BB% from 10.7% to 8.6% and opposing batters' barrel % decreased from 5.5% to 3.7%. Sheffield also changed his repertoire and mindset in 2020 which worked out great for him.
Instead of trying to beat batters with his fastball, he became a crafty lefty instead. 2020 was a really good sign for all three of these Seattle Mariners players who outperformed expectations.
They all had a lot to prove as young players in the organization, and they stepped up in a big way. It will be exciting to see these three grow even further. Last but not least, a few honorable mentions…