Where could the 6th overall pick fit in Mariners' prospect rankings?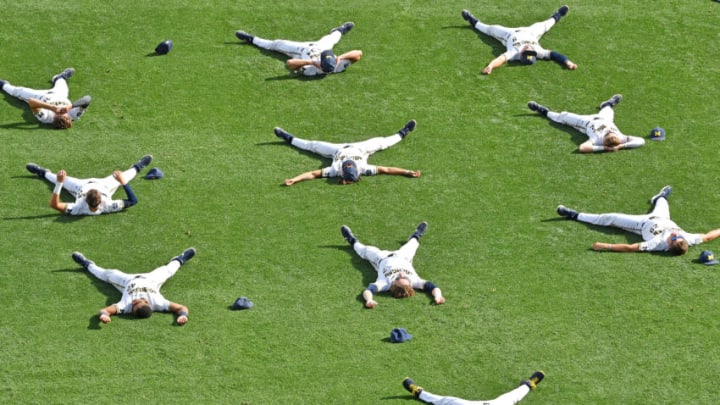 OMAHA, NE - JUNE 25: Players of the Michigan Wolverines stretch on the field, prior to game two of the College World Series Championship Series against the Vanderbilt Commodores on June 25, 2019 at TD Ameritrade Park Omaha in Omaha, Nebraska. (Photo by Peter Aiken/Getty Images) /
The Mariners have already established a top-10 farm system in all of baseball and it's only going to get better in June.
It appears safe to say that Seattle won't have a chance at Spencer Torkelson, Austin Martin, or Asa Lacy, but after that, there are still some blue chip options that could fall right into their laps at the sixth overall pick. How exactly good are these players? Likely not enough to push Jarred Kelenic for the consensus #1 spot atop the Mariners' farm rankings, but the likes of Julio Rodriguez and Logan Gilbert may not be as safe in their current slots.
Emerson Hancock is the one name that may give some pause when penciling in Seattle's top prospect. For most of the draft process, Hancock's name has been synonymous with the top-five and even the first overall pick at times. However, it appears that concerns over his strikeout rate—albeit overblown—may lead to a slight fall within the top-10, which means the Mariners suddenly have a seemingly realistic opportunity to get a future ace in their system to pair with Gilbert.
If Hancock isn't there at the sixth pick, or the Mariners are one of the teams that are (stupidly) put off by the strikeout rate (Hancock still struckout 34 hitters in 24 innings, and walked just three this year, for what it's worth), they still have a chance to take their ace in Max Meyer. While Meyer hasn't garnered top-five praise from big-name publications, his stock is starting to tremendously rise as we inch closer to June 10 and he's quickly become one of our favorite targets for the M's.
Meyer's ace ceiling would likely push him past Gilbert, who more so projects as a high-end #2 in most Major League rotations, on most lists. Given the aforementioned lack of major national attention, however, it's hard to see Meyer immediately hurdling over Rodriguez from a consensus standpoint.
As for hitters, the marquee name at the sixth pick would be New Mexico State middle infielder Nick Gonzales. Carrying one of the most prolific bats on the collegiate circuit, Gonzales will transition nicely to the Major Leagues. However, Gonzales' average glove at second base and some concerns over how his power will carry over to the highest level have some lower on him than others. So, while the Mariners could secure a surefire big leaguer in Gonzales, he does have some limitations that likely would keep him behind the big three of Kelenic, Rodriguez, and Gilbert.
There's also Zac Veen, the consensus top prep player in the draft. Veen has legit superstar potential from an offensive standpoint and profiles as an above-average corner outfielder at the MLB level. Jerry Dipoto, however, has preferred college-level talent in the first round during his first four drafts with the Mariners, so it's hard to say if he would break trend and take Veen, especially if someone like Gonzales or Meyer is also available.
If the pick is Veen, he'd likely slot behind Seattle's big three at first, but wouldn't take long to shoot up the ranks. There's a lot to love there, but he's a late riser, so it's hard to fully commit to anything beyond #4 in the Mariners' ranks until he plays professionally, which likely won't be until next year.
The Mariners could also go with a more conservative pick like Reid Detmers or Garrett Mitchell, or something to save some cash like a Cade Cavalli or Garrett Crochet. While these players are fine, it's hard to see them challenge even George Kirby in Seattle's rankings right away. The fact that none of these players are going to play and further develop in 2020 also has to be taken into account, so, while some of the aforementioned players' projections can help them overcome that, it makes it even harder to get excited on the more disappointing option of one of the potential safer/money-saving selections.