How the MLB season delay affects the Seattle Mariners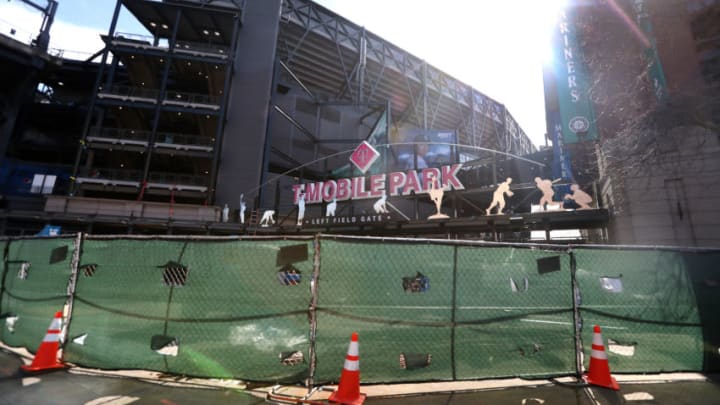 SEATTLE, WASHINGTON - MARCH 15: A general view of the outside of T-Mobile Park on March 15, 2020 in Seattle, Washington. Major League Baseball cancelled spring training games and has delayed opening day by at least two weeks due to the coronavirus (COVID-19) outbreak. (Photo by Abbie Parr/Getty Images) /
It's bad, but maybe not all that bad if a season still happens. If we're lucky, that is.
The Mariners and Rangers were set to square off for the third game of the 2020 MLB season tonight. In all likelihood, we would have seen Justus Sheffield make his season debut versus an above-average Texas lineup on a crisp night in downtown Seattle.
Instead, T-Mobile Park remains empty, much like its surroundings streets and neighborhoods. A season that was supposed to offer a glimpse into a promising future for the Mariners has become non-existent in the blink of an eye, replaced on the ROOT Sports airwaves by memories of a much simpler time, when baseball—and all major American sports, for that matter—was a dependable getaway from the noise of the outside world.
But that noise has become too deafening even for the sports world, as Major League Baseball and nearly every other professional and amateur sports league around the globe have closed their doors indefinitely. There is no concrete date, range, or any sort of timeline set for the resumption of baseball activities. There are only questions.
Following yesterday's disappointing agreement between MLB and MLBPA, all roster moves are frozen until further notice, and the language used suggests what may unfortunately—but necessarily—be the inevitable: the eventual cancellation of the 2020 season.
Every team in the league will be greatly impacted by the delayed start to the year and any possible cancellation, but it feels like it may have a much more prominent effect on the Mariners than most given where they currently are in their rebuild. The most glaring question, perhaps, is what this does for the timeline of several of their top prospects such as Jarred Kelenic, Logan Gilbert, and Julio Rodriguez.
If the season isn't cancelled, the delay may actually benefit in a couple of ways, especially when it comes to their prospects, namely Gilbert. Let's say MLB gets the green light to resume play sometime in July. One of the biggest reasons Gilbert had little-to-no chance of making the Mariners' roster out of Spring Training, despite his apparent readiness for MLB action, was the management of his major league innings.
Had Gilbert started the season in Seattle, he likely would have hit his innings cap (probably somewhere in the 120-140 range) by midseason or shortly thereafter. Now, with July being the best-case scenario for the return of baseball and what should be a shorter schedule, Gilbert likely wouldn't hit 100 innings overall and may benefit from getting all of his season action at the MLB level rather than, say, splitting that time in a league he appears to already be too advanced for in Double-A.
The handling of Kelenic and Rodriguez in this scenario, however, is a bit more delicate. Rodriguez was already a long-shot to make his Major League debut in 2020, but now any outside chance of that has gone completely out of the window. More importantly, it will likely push his eventual debut even further into 2021 than initially anticipated, given the fact that he still hasn't played above High-A ball.
There was a pretty good chance of seeing Kelenic this year, though, and that still may be a possibility if the regular season is extended into October and even November. And while Kelenic is seen as the next superstar to grace the field of T-Mobile Park, the reality is that he still has less than 100 plate appearances in Double-A and any delay to the season is going to further prolong his arrival to the majors.
One name that may be there in Seattle on Opening Day that wasn't expected to be is Mitch Haniger, who's currently working his way back from a pair of surgeries at the top of the year. Haniger wasn't expected to be back until May at the earliest had the season gotten underway as expected, but the potential July start to the season should allow him to return to the field for the Mariners' first game of the year as long as he does not suffer any other setbacks.
On the other hand, no player on the Mariners may be more negatively impacted by a season cancellation than Haniger. If baseball doesn't resume until a year from now, not only would Haniger be nearly two years removed from his last MLB appearance, he also would lose another year of club control under MLB and MLBPA's agreement and would be one step closer to free agency after the 2022 season with absolutely zero outside value built up and a year of getting his feet back under him ahead.
Finally, let's talk about this potential postseason expansion and what that does for the Mariners. If the rumors are true and Major League Baseball is actually exploring a 14-team playoff bracket as soon as this season, that could mean quite a few things for Seattle. Now, I'm not saying they now have a chance to end their 18-year playoff drought in a shortened season with two more playoff spots up for grabs, but I'm also not not saying it, either.
Jokes aside, the craziness that would most definitely ensue if the 2020 MLB season were to proceed like this could benefit the Mariners, one of the few teams that will likely be out of contention fairly early on. While there's no word on when a trade deadline would take place or if there even would be one in general, the field of clear-cut sellers will be shorter than usual whenever the trade market takes shape.
The Mariners could be an ideal trade partner for several potential contenders and bubble teams amidst the madness, especially if they're able to offer up a healthy Mitch Haniger. Just something to think about.
There will be a lot more to speculate on as we continue to wait for some good news, whenever that may come. I hope it's soon. I'll take anything at this point. I miss baseball and I miss the Mariners.