Seattle Mariners home opener pushed back for public health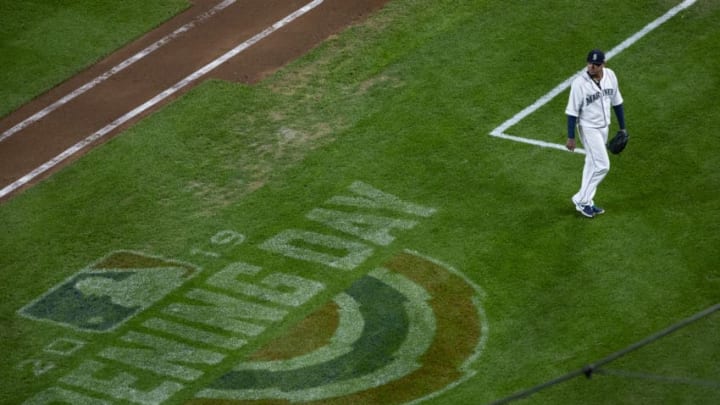 SEATTLE, WA - APRIL 01: Felix Hernadez #34 of the Seattle Mariners walks off the field after his first non-Opening Day start in 10 years during the sixth inning against the Los Angeles Angels of Anaheim at T-Mobile Park on April 1, 2019 in Seattle, Washington. (Photo by Lindsey Wasson/Getty Images) /
The Seattle Mariners were going to open the MLB season at home for just the third time in the past 12 years. But thanks to some bad luck, it could be a while before they play at T-Mobile Park.
Opening day is often a highlight for the Mariners. Despite the nearly two-decade playoff drought, the team has performed remarkably well in Game 1 of the season. But Seattle doesn't get to celebrate Opening Day at home all that often. 2020 was going to be just the 3rd time since 2008 that Seattle would host game 1 in their home ballpark. Unfortunately, that won't be the case.
Washington Governor Jay Inslee has placed a ban on gatherings of 250 or more people, including to all sporting events, in 3 counties, including King County. This means that all scheduled Mariners games, along with the Seattle Sounders, Seattle Dragons, and many other social gatherings, will be banned for the foreseeable future.
The order comes as the spread of the Coronavirus continues to grow. We do not know how long this ban will actually last but it is safe to assume that the earliest the Mariners would be back in Seattle would be on April 9th, 2 weeks after the original schedule. And that possibility would be contingent on factors beyond the team's control.
The simple fact is, we have no idea how long it will be before we can head back to T-Mobile Park to cheer on the Mariners and enjoy a baseball game out in the sun.
As for where the Mariners will open their season, there are several contingencies being discussed. Amongst these playing the games in Peoria, Arizona until the ban is lifted, playing the games in opposing team's stadiums, or possibly using Globe Life Park, the former home of the Texas Rangers.
The possibility to delay the start of the entire season is also quite real. We don't know when we will see Marco Gonzales throw the ball to Tom Murphy in game 1, or from which mound he'll be doing it from. But until the risk to public health is significantly lowered, we may be without baseball for a little while.