Mariners have no need to dump veteran contracts this spring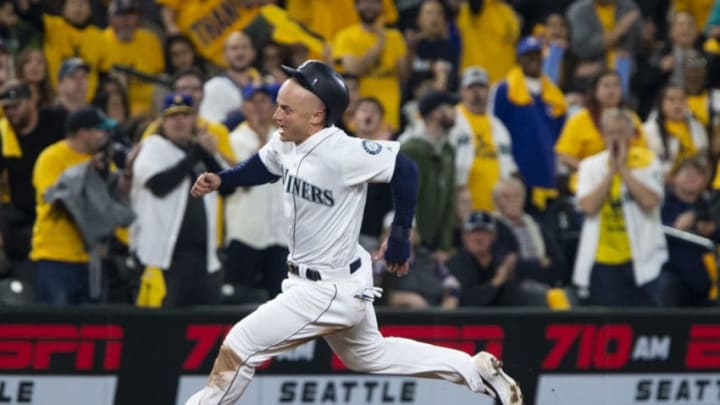 SEATTLE, WA - SEPTEMBER 26: Kyle Seager #15 of the Seattle Mariners rounds third to score in the fifth inning against the Oakland Athletics at T-Mobile Park on September 26, 2019 in Seattle, Washington. (Photo by Lindsey Wasson/Getty Images) /
The Seattle Mariners spent a great amount of energy over the past 16 months in clearing as much payroll off their books as possible for the 2021 season and beyond. But they have no need to continue that work.
It may seem like an odd topic to cover, but mlbtraderumor.com posted an article identifying 5 players whom the Boston Red Sox could trade for in an attempt to add a prospect. And, of course, two Mariners made the list. But while the idea makes a lot of sense for Boston, it makes no sense for a team like Seattle.
The basic premise is simple: Boston takes on a portion, or perhaps all, of a "bad" contract from a team and gets a prospect added for buying the junk bonds. But the Mariners have no business selling any of their current contracts as "junk bonds". In fact, they should be doing what the Red Sox are trying to do.
The two players mentioned by MLB Trade Rumors are Kyle Seager and Dee Gordon. Let's start with the easiest idea to ignore, Dee Gordon. Gordon has one-year left on his contract that will pay him $14.5 million. Why would Jerry Dipoto give away any prospect when he could simply wait until October and get Gordon off his books? Yeah, he wouldn't.
Seager seems like a more likely option, but again, there are serious flaws in the logic. First of all, Seattle doesn't have a third baseman lined up that Seager is blocking. If Seattle traded Seager, they would be playing Dylan Moore or Tim Lopes at the hot corner in the interim, then have to find another player to play there in 2021, a season in which they hope to be contenders.
Second, Seager's contract isn't a vast overpay. Seager is set to make $19.5 million this season and $18.5 million in 2021 before the team must make a decision about a team option at $15 million. So, assuming they let Seager walk after 2021, he'll make $38 million over the next two seasons. A win is worth roughly $7 million, meaning Seager will have to be worth just a shade over 5 wins over the next two seasons, a reasonable expectation for Seager.
Third, Seattle doesn't need the payroll flexibility for anything. The team currently sits around $110 million in payroll. At their peak, Seattle was spending $180 million a year. So why give up a prospect to save $10 million you don't need?
Finally, and perhaps most importantly, Seager has a chance to be a trade asset again. Remember the rumors that teams had checked in with the Mariners about Seager's availability this winter? This shows that there is some marginal value left in Seager. And if he goes out and repeats his second-half numbers from 2019, we won't be talking about adding a prospect to move Seager, we could be talking about adding one.
There are very narrow scenarios where this idea could make some sense. But the margins are so small, Seattle is better off just waiting for Gordon's deal to slide off its books and to give Seager a year to regain more trade value. Always remember that it takes two to tango. If a deal isn't viewed as mutually beneficial, it has no chance of getting off the ground.