Predicting the Mariners Opening Day 26-man roster (pitching)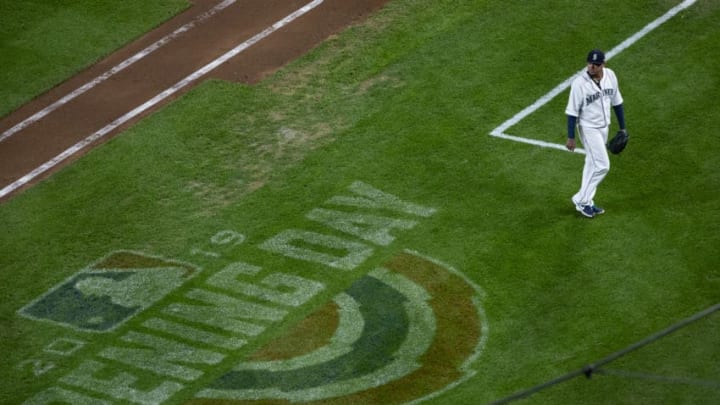 SEATTLE, WA - APRIL 01: Felix Hernadez #34 of the Seattle Mariners walks off the field after his first non-Opening Day start in 10 years during the sixth inning against the Los Angeles Angels of Anaheim at T-Mobile Park on April 1, 2019 in Seattle, Washington. (Photo by Lindsey Wasson/Getty Images) /
The Seattle Mariners will play a baseball game on Saturday and are less than 5 weeks away from kicking off their 2020 regular season. But we wonder, who will make the trip to Seattle?
While many teams will face open competitions at several positions, the Mariners aren't really in that spot this spring. It seems unusual that a rebuilding team like Seattle would have a fairly set in stone 26-man roster, but the team has made its preferences known, so we have a good idea of who will make the trip to Seattle for the Opener against the Texas Rangers on March 26th.
Of course, there is always room for surprises, and lord knows that injuries will come this spring. And while we have a good idea of what the starting lineups will look like, there are a few spots that will have one or two contenders vying for the spots.
So, let's go ahead and layout our projected Opening Day pitching staff. There are a handful of locks, but a muddied bullpen makes for an interesting discussion. But let's start with the arms we know are making the teams.
The Mariners are not going to DFA Marco Gonzales, who has posted back-to-back 3 fWAR seasons and just signed a 4-year extension a few weeks ago. The only way he's not making a trip to Seattle and taking the ball against Texas on Opening Day is if he gets hurt.
Yusei Kikuchi is coming off a bad season that has made many Mariners fans sour on the young lefty. But Seattle has another $28 million invested in him and the raw stuff suggest he can be a solid #3 starter. He flashed enough last year and has already tweaked his mechanics. There is no shot Kikuchi isn't on the Opening Day roster.
Sheffield is the most interesting one to land on the "lock list". I almost put him in the next category, but we have heard absolutely nothing to suggest he isn't written in ink on the Mariners depth chart. This is the right move. Sheffield got a nice cup of coffee last season and is ready to test his stuff and stamina against the best in the world.
PEORIA, AZ – FEBRUARY 20: Kendall Graveman #49 of the Seattle Mariners poses during the Seattle Mariners Photo Day on February 20, 2020 in Peoria, Arizona. (Photo by Jamie Schwaberow/Getty Images) /
Both of these players are highly likely to factor into the Opening Day rotation. While neither is a guarantee to do so, both are currently penciled into the rotation. The key for both players will be health.
Taijuan Walker missed most of 2018 and 2019, dealing with Tommy John Surgery and a shoulder capsule injury. Walker says he is 100% and if the velocity and command are both back to normal, he would be a lock.
Kendall Graveman missed most of 2019, pitching just 6 innings in the minor leagues as well as most of the 2018 season, when he was only able to log 34 innings for the Oakland A's. Graveman only has one season under his belt in which he has thrown enough innings to qualify for an ERA title, way back in 2016.
Both Walker and Graveman need to show they are healthy. If they do, expect both to make the rotation, regardless of what the results look like.
All 3 arms likely need an injury to stand much of a chance. Dunn and Margevicius are likely headed down to AA Arkansas to begin 2020 and will be amongst the first called up if an emergency should arise.
Chen signed a minor league deal so he'll have to show something this spring if he wants to stick around. He did pitch out of the bullpen for Miami last year, so Seattle could stash him there if they think he is too valuable to let go.
Other names who are highly unlikely to make the team include Logan Gilbert, Ljay Newsome, and Anthony Misiewicz.