Predicting the Mariners Opening Day 26-man roster (pitching)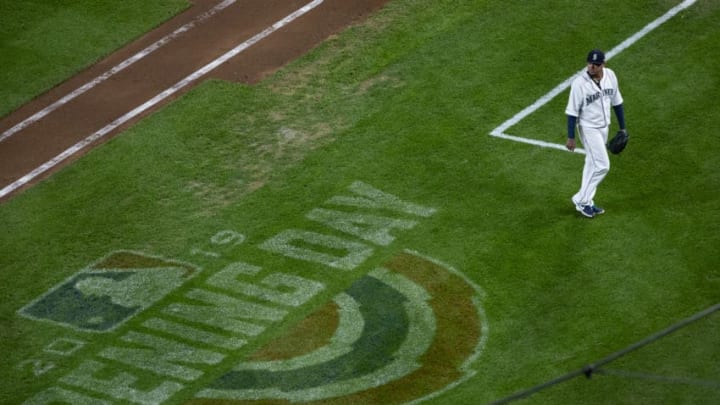 SEATTLE, WA - APRIL 01: Felix Hernadez #34 of the Seattle Mariners walks off the field after his first non-Opening Day start in 10 years during the sixth inning against the Los Angeles Angels of Anaheim at T-Mobile Park on April 1, 2019 in Seattle, Washington. (Photo by Lindsey Wasson/Getty Images) /
PHOENIX, AZ – AUGUST 26: Yoshihisa Hirano #66 of the Arizona Diamondbacks delivers a pitch in the ninth inning of the MLB game against the Seattle Mariners at Chase Field on August 26, 2018, in Phoenix, Arizona. All players across MLB wear nicknames on their backs as well as colorful, non-traditional uniforms featuring alternate designs inspired by youth-league uniforms during Players Weekend. (Photo by Jennifer Stewart/Getty Images) /
We feel pretty confident that these 4 will make up half of the Mariners Opening Day bullpen. Hirano and Edwards Jr. both got MLB deals as free agents and are expected to handle high-leverage situations and help close out games for Seattle. They will likely handle most of the 8th and 9th inning stuff for Scott Servais early in 2020.
Tuivailala and Brennan both flashed high-leverage ability in 2019. Tuivailala was the most consistent bullpen arm for Servais last season and Brennan's 95 MPH sinker and excellent changeup give him a chance to break out this season.
These 4 arms at least provide some relative floor for Servais and all possess the ability to close out games or wriggle off the hook of a bad situation.
Magill was actually quite good for the Mariners last season and has a good chance to make the trip to Seattle. He actually served as the closer for a stretch and showed good ability, posting an 11.37 K/9 and a 3.79 FIP. Magill doesn't have any remaining options, so if he's not on the club or on the IL, he will need to clear waivers before he can be sent down.
Guilbeau, whom the Mariners acquired for Roenis Elias last summer, appeared in 17 games for Seattle and did a decent job in his first go-around with the big club. Seattle hasn't added any lefties on MLB deals, but Guilbeau does have some competition for the spot.
SEATTLE, WA – JULY 25: Erik Swanson #50 of the Seattle Mariners delivers in the first inning against the Detroit Tigers at T-Mobile Park on July 25, 2019, in Seattle, Washington. (Photo by Lindsey Wasson/Getty Images) /
All of these arms are interesting and have a shot to win a job straight up. Altavilla may be the most recognizable name and may have the best stuff of anybody on this list. But he hasn't been able to consistently throw strikes, rendering his great stuff largely irrelevant. This is a make or break camp for Altavilla, who is out of options.
Erik Swanson flashed some last season and made a handful of starts for Seattle and appeared out of the pen in 19 games. The Mariners seem to have decided that Swanson is a reliever and are letting him focus on that this spring. Swanson was a better reliever than a starter and has the flexibility to fill a number of roles for Seattle. However, he also has 2 options left, so a trip to Tacoma isn't out of the questions.
Cortes will battle for a role this spring. He has started and relieved games in his career and carved out a niche in the powerful Yankees bullpen last season. Cortes is an "everything and the kitchen sink" type of arm that will throw from multiple arm angles and hurl all kinds of junk towards home. He does a nice job of missing bats considering his stuff. He has two options left.
Yohan Ramirez, the Mariners Rule 5 Draft selection, has a big fastball and a useable slider but no idea where either pitch is going. He faces an uphill battle but will need to make the team or be sent back to Houston.
Hey, just pick any arm in the system and put them here. Well not exactly, but on a rebuilding team like Seattle, anybody can win that final spot on the roster. All the names listed above, and several more throughout the system, would need a few breaks to go their way to make the roster, but all have MLB stuff right now.
But there you have it, all the guys with a reasonable chance to make the Opening Day Roster… at least right now. Players can be added, some could be traded, and others will get hurt. But as of today, these guys represent the best guess we can levy at this point. For a more definitive answer, here is our projected Opening Day Pitching Staff:
Marco Gonzales
Yusei Kikuchi
Justus Sheffield
Kendall Graveman
Taijuan Walker
Yoshi Hirano
Carl Edwards Jr.
Sam Tuivailala
Brandon Brennan
Matt Magill
Taylor Guilbeau
Erik Swanson
Dan Altavilla