Steamer Projections for Mariners 2B show promise but not much else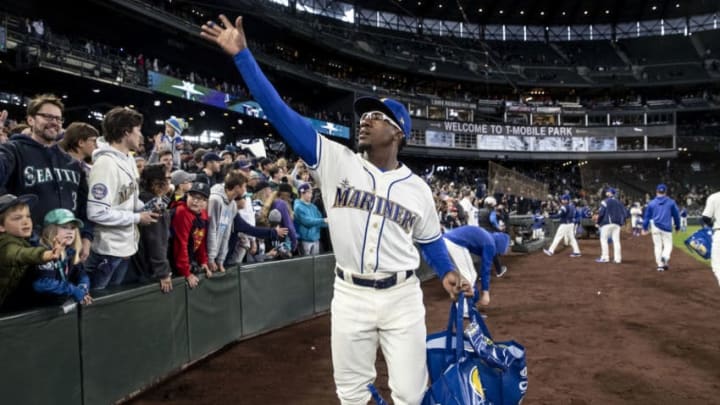 SEATTLE, WA - SEPTEMBER 29: Shed Long #39 of the Seattle Mariners hands out memorbilia after a game against the Oakland Athletics to end the season at T-Mobile Park on September 29, 2019 in Seattle, Washington. The Mariners won 3-1. (Photo by Stephen Brashear/Getty Images) /
We continue our breakdown of Steamer Projections for each of the Seattle Mariners position groups. Today, we look at what the expectation for the second basemen could be.
Perhaps the most well known of projections, Fangraphs "Steamer" projections are widely used in the baseball writers community as a baseline for where to begin to attempt to make educated guesses on a player's upcoming success. In this series, we will look at how Steamer projects your Seattle Mariners at every position.
But before we begin, it is important to remember that while Steamer is a lot more than random guessing. It is a complicated process and deserves a lot more credit than just being called a "wild guess".
However, it is also important to remember that at the end of the day, these projections are just that; projections. But with all that in mind, let's kick off our series by looking at Steamer's opinion of how the Mariners second basemen will fare in 2020.
Shed Long Steamer Projection: 131 Games, 550 PAs, .247/.311/.404, 16 HRs, 10 SB, 92 wRC+, 1.4 fWAR
SEATTLE, WA – SEPTEMBER 27: Shed Long #39 of the Seattle Mariners scores on a walk-off double by J.P. Crawford in the ninth inning against the Oakland Athletics at T-Mobile Park on September 27, 2019, in Seattle, Washington. (Photo by Lindsey Wasson/Getty Images) /
Very few Mariners have become fan favorites as quickly as Shed Long Jr. did. It happened almost immediately in Spring Training and after an adjustment period at the big league level and working his way through an injury, Long may just cement himself as the next second baseman on a winning Mariners team with a solid 2020. And if you take Steamers projections at face value… it appears they'll need to see more of him in 2021 before deciding that.
The Steamer projections are bad. For the first full season in MLB, those are respectable numbers, especially for a 24-year-old. But it may be a bit of a disappointment for fans who are expecting a repeat of his .263/.333/.454 season in his first 168 career plate appearances.
The home run projection seems a tad low, especially if MLB continues to use the juiced ball. Long has well above-average raw power and we are starting to see it show up in games. Surprisingly, Steamer thinks more highly of Long's defense than most scouts. It is projecting a -0.2 Def score, just below replacement level.
The defense will be the big issue going into Long's evaluation as an everyday second baseman, but there is enough to like in his bat, raw power, versatility, and athleticism to give him that chance. While the projected stat line wouldn't blow anybody away, it would be a solid rookie season for Long.
Dee Gordon Steamer Projections: 75 games, 314 PAs, .273/.306/.359,       3 home runs, 14 steals, 0.4 fWAR
PITTSBURGH, PA – SEPTEMBER 18: Braden Bishop #5 celebrates with Dee Gordon #9 of the Seattle Mariners after a 4-1 win over the Pittsburgh Pirates at PNC Park on September 18, 2019, in Pittsburgh, Pennsylvania. (Photo by Joe Sargent/Getty Images) /
I mean, that feels about right. Gordon has been a bad acquisition and his days in a Mariners uniform are limited. His 2019 season was itself frustrating because every time it looked as though Gordon was back on track, he would get hurt. First, it was getting hit in the wrist by a JA Happ fastball, then a lower leg injury.
Gordon appears untradable right now and Seattle seems unwilling to just DFA him, so he may very well be on the Opening Day roster in 2 months. GM Jerry Dipoto says Gordon will move around the diamond this year and in an effort to recoup some shred of trade value, it may be an okay move.
But after 2 years in Seattle with largely the same results as these projections, it is hard to be more optimistic about this fan favorite.
Well, there we have it, Steamer is projecting just under 2 fWAR for Seattle's second baseman. Next time, we will look at third base and whether or not Steamer buys into the Kyle Seager of 2019.