Seattle Mariners 2020 MLB Draft Profile: Nick Gonzales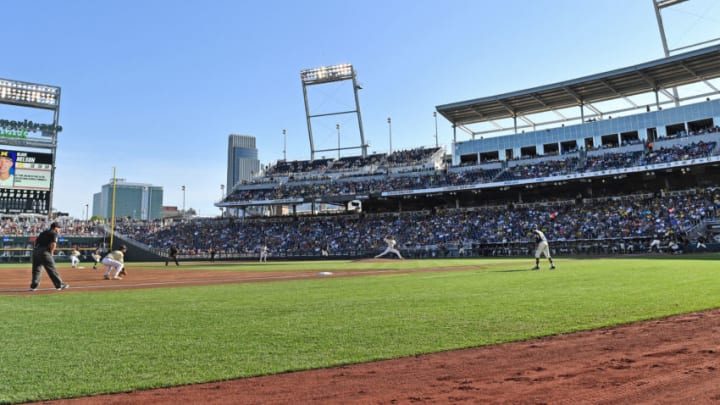 OMAHA, NE - JUNE 26: Pitcher Mason Hickman #44 of the Vanderbilt Commodores delivers a pitch in the first inning against the Michigan Wolverines during game three of the College World Series Championship Series on June 26, 2019 at TD Ameritrade Park Omaha in Omaha, Nebraska. (Photo by Peter Aiken/Getty Images) /
The Seattle Mariners own the #6 in the upcoming 2020 MLB Draft. There will be no shortage of options for their consideration, including New Mexico 2B Nick Gonzales.
When the Mariners make their pick at 6th overall in June of 2020, it will be their highest draft pick in the Jerry Dipoto era and the importance of the selection could not be overstated. But while most of our discussions will center around which college arm Dipoto likes most, we can't discount the possibility that he takes a bat.
This will be Dipoto's 5th draft with the team and he has selected two bats, Kyle Lewis and Evan White, as well as 2 arms, George Kirby and Logan Gilbert, with his 4 first-round selections. Last season Seattle focused heavily on arms, but this year could be different.
If Dipoto winds up taking a bat, Nick Gonzales out of New Mexico could be the selection. Very few scouts, if any, doubt the hit tool Gonzales carries, with some believing him to be a 70-grade bat (20-80). Most give him a solid 60-grade hit tool, which equates to roughly a .300 batting average and a .350+ OBP.
But as good as the bat is, there are legitimate questions left to be answered. The power tool remains a question mark. It can be tough to scout power in New Mexico's ballpark, often described as a hitters paradise.
Gonzales swing is compact and generates good bat speed, so he should hit for some power but 35 doubles and 15 home runs is more likely than 25 home runs type of power. There isn't currently a lot of pressure on the power to develop. As a second baseman, he has more than enough power to fit the typical profile.
Speaking of second base, Gonzales isn't a future Gold Glove winner but carries a 50-grade glove. If he hits, this won't be a problem, but his glovework isn't good enough to carry him for weeks in a big-league lineup. Gonzales has no shot to handle shortstop and his arm isn't ideal for third base. He also lacks the explosiveness to play center field, so if he can't handle second, it may be left field or DH for Gonzales.
He is a smart base-runner but isn't close to a burner. He may steal 5-7 bases a season, but the footspeed sits closer to a 50-grade than a 55. The last 2B rated this highly was Nick Madrigal of Oregon State but that isn't a fair comparison to Gonzales. While the hit tools and power carry similar grades, Madrigal is leaps and bounds better defensively and a bigger threat on the base paths.
Gonzales may be more closely comparable to Keston Hiura, the former Cal-Irvine standout and first-round pick of the Milwaukee Brewers. Because of the immense pressure on the bat to be a carrying tool and his lack of versatility, any team selecting Gonzales has to be reasonably sure the bat is legit.
The Mariners have shown a trend to favor probability over upside in round 1 under Dipoto, but all 4 of his first-round picks carry more upside than Gonzales has and have more than 1 stand out tool to work with.
If Seattle selects Gonzales at 6, it would be a safe pick that wouldn't be easy to demonize. But if Seattle wants super-star upside, they should look elsewhere in 2020.