Sodo Mojo's Top 40 Seattle Mariners Prospects: Number 2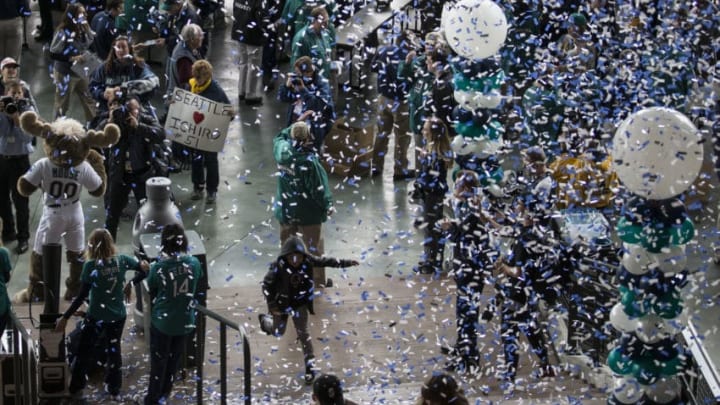 SEATTLE, WA - MARCH 29: As confetti rains down, fans make their way into the stadium before a game on opening day between the Cleveland Indians and the Seattle Mariners at Safeco Field on March 29, 2018 in Seattle, Washington. (Photo by Stephen Brashear/Getty Images) /
Well, we are almost there. It is almost time to reveal our top Mariners prospect (you know who it is). But before we get there, we unveil our second-best prospect.
I hope you guys understand our process for ranking these Mariners prospects but in case you forgot, here is a quick rundown. These ranks are just our opinion and are in no way "expert" level. We are working off stats, scouting reports, and grainy footage from MILBTV so we don't get the best look at these players.
We each ranked out our Top 40 individually, revealed our list, and combine them with a point system. Our number slot was worth 40 points, our second slot is worth 39 and so on. It is simple and generates a pretty decent list, so we will keep it for a while. With that in mind, let's get started.
The 2018 first-round pick, Mariners fans were bummed when Gilbert was shut down in June of 2018 as he battled mono, forcing them to wait until 2019 to see their new prospect in action. Well, it may not be long before we get to see him pitch a T-Mobile Park.
The right-handed pitcher out of Stetson, Gilbert jumped 2 levels after starting the year in A-Ball West Virginia and dominated every step along the way. In 135 innings between West Virginia, Modesto, and Arkansas, Gilbert struck out 165 batters while walking only 33. Opponents hit just .198 against him and he posted a sub-1.00 WHIP.
The numbers are great but they don't tell the whole story. Heck, Ljay Newsome had fantastic numbers and he barely cracked our Top 20. What makes Gilbert special is both his raw stuff and his ability to command it.
Gilbert operates in the low-to-mid 90s with his fastball which features good run and has hit 98 MPH in the past. Gilbert will likely sit 93-94, but he can rush it up near triple digits once in a while. He backs up the fastball with a good changeup and 2 solid, above-average breaking balls.
The separator is his 60-grade command with all 4 pitches. A pitcher who has 4 above-average to plus offerings with plus command of all of them is a rare combination. As things stand right now, he doesn't have the one off-speed pitch that makes him an ace. In other words, there isn't a Gerrit Cole curveball in his arsenal… at least right now.
As Gilbert continues to refine his arsenal, it is possible this double plus off-speed pitch is developed, but more than likely, we will have to "settle" with 4, 60-grade offerings. Gilbert has a high floor of a #4 starter and should be a high-end #2 when all is said and done.
Gilbert could be similar to this year's Chris Paddack. That is, a guy who came off a great year in the minors who most believe is destined for AAA who goes ahead and makes the team out of spring training.
Whether he makes the team out of Spring Training or not, Gilbert will make his debut with Seattle sometime before July of 2020 and he may never go back. Heck, Keith Law, notorious for hating your favorite team's prospect (I guess), believes Gilbert is a big leaguer right now.
Either way, the Mariners got a good one here. Gilbert will be a big piece in the ramp-up to the playoffs and should pay off the Mariners trust in him soon,