Seattle Mariners: Minor League Report, August 29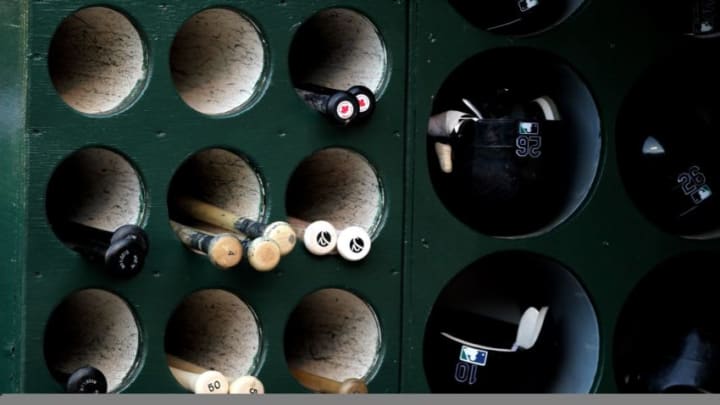 OAKLAND, CA - APRIL 06: Bats and helmets belonging to the Seattle Mariners rest in the dugout during their game against the Oakland Athletics at the Oakland-Alameda County Coliseum on April 6, 2010 in Oakland, California. (Photo by Ezra Shaw/Getty Images) /
The MiLB regular season is coming to a close and several Mariners prospects are finishing strong.
It was another solid night for the Mariners' minor league affiliates, and there's nowhere to go first but to Modesto where Julio Rodriguez did the damn thing again, going 5-for-5 with a triple, two doubles, and four RBIs in the Nuts' 10-2 win over Stockton. 'JULIOOOOOOOO' is now slashing an out-of-this-world .587/.620/.891 with 27 hits, 15 RBIs, five doubles, three triples, and a home run.
Also in Modesto, José Caballero had one of the best night of his young tenure in the Mariners' organization, going 3-for-3 with a walk and a hit-by-pitch, scoring four of the five times he reached base. He's only 5 for his last 24 but has shown some encouraging signs as he works his way back from an injury that held him out for the entirety of June and July.
The Nuts' offense wouldn't be the only story of their win, however, as Devin Sweet dominated Stockton bats to the tune of a seven-inning, two-hit, eight-strikeout shutout performance. He has yet to surrender a run through his first two starts since being promoted from West Virginia.
Good pitching didn't exist just in Modesto last night, however. In Arkansas, Ljay Newsome threw six strong innings against a good Corpus Christi lineup, allowing nothing but a two-run homer, striking out six, and walking one. Newsome hasn't seen the same success he had in Modesto since his promotion to Arkansas, particularly on the swing-and-miss side of his game. But while the numbers haven't been as striking, Newsome has provided a quality start in each of his first eight starts with the team.
Unfortunately, the Travelers couldn't produce much on offense and ultimately dropped the game by a score of 2-1. Kyle Lewis doubled and later scored the team's lone run, but a dry night for the Tavs' bats otherwise.
Lastly, in Everett, our 22nd-ranked Mariners prospect Damon Casetta-Stubbs surrendered three runs (two earned) over five innings of two-hit, seven strikeout ball. Casetta-Stubbs has the tools to become a legit top-of-the-farm pitching prospect, but he hasn't been able to put things together in live game action yet. Hopefully this is a solid step in the right direction for him.