Sodo Mojo's Seattle Mariners Twitter Mailbag #2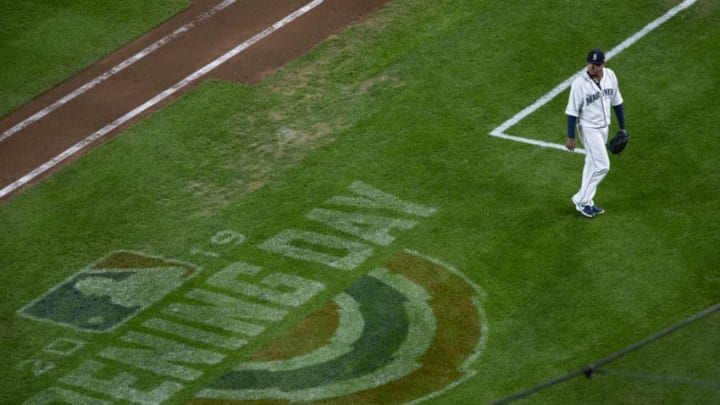 SEATTLE, WA - APRIL 01: Felix Hernadez #34 of the Seattle Mariners walks off the field after his first non-Opening Day start in 10 years during the sixth inning against the Los Angeles Angels of Anaheim at T-Mobile Park on April 1, 2019 in Seattle, Washington. (Photo by Lindsey Wasson/Getty Images) /
Most Surprising, Most Disappointed
So one of the best things about the 2019 Mariners is that there are quite a few candidates for the former and only a small handful of the latter. Most of the big-name prospects in the system have had a successful 2019 in some respect. Injuries have kind of pushed back the development of Braden Bishop and Shed Long, which is disappointing but not really there fault.
Other than that, every other Top-10ish prospect has at least been solid this season. As far as exceeding expectations, I think this almost has to go to Ljay Newsome. He ended last season as fringe organization filler and is now one of the most productive pitchers in the system.
He was sent to Mariners "Gas Camp" this winter, a special program where the team tries to extract the most velocity out of pitchers as possible, and Newsome may be the poster child of their success.
He spent most of 2018 sitting 85 mph. In 2019, he sits 89-91 and can touch 93 at times. He did all of this without sacrificing his double-plus command, as evident by his 14 walks in 145 innings. All that being said, I'm still not sold on Newsome as more than a middle-reliever type. The stuff is getting better but still isn't great. But he may start 2020 in AAA so that is a massive jump from where he was last season.
As for the prospect that has faltered the most, I am going to say Dom Thompson-Williams. He has really struggled in AA this season. Strikeouts have been major issues for him this season but the raw skills are still exciting.
The bat speed and power are still there and DTW is a good athlete. He is Rule 5 eligible, though it is unlikely he will be selected. He is destined to repeat AA next season and hopefully, he can show the skills I saw in 2018 that led me to believe DTW could actually skyrocket into the Top 10 by seasons end.