Sodo Mojo's Seattle Mariners Twitter Mailbag #2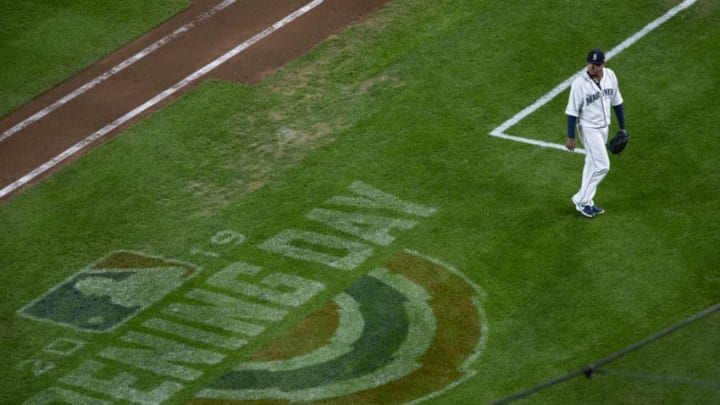 SEATTLE, WA - APRIL 01: Felix Hernadez #34 of the Seattle Mariners walks off the field after his first non-Opening Day start in 10 years during the sixth inning against the Los Angeles Angels of Anaheim at T-Mobile Park on April 1, 2019 in Seattle, Washington. (Photo by Lindsey Wasson/Getty Images) /
Felix… Some will never quit you
No. It really is that simple. There is obvious some fraction in that relationship and it is pretty clear at this point that the King Felix of old is dead. He had a decent return to action against the Blue Jays but I honestly do not know what kind of "progress" he has shown in 3 years.
His numbers have gotten progressively worse and yet, he looks like the same pitcher he has been since 2016. He's just not good. Does he still have the stuff to be a mid-rotation guy? Yes. And yet, for the better part of 3 seasons, he has been hurt or ineffective.
By all accounts, Felix has been pretty resistant to any changes the Mariners have approached him with and hasn't bought into the analytical data presented to him by Seattle. So while he hasn't been a public distraction, a general reading between the lines show a Felix who is done with the Mariners and a franchise who is done with him.
But for Felix, he needs to pitch well to even extend his career. He has been that bad, as hard as that is for so many to admit.
Look, the King will one day return to Seattle as he is inducted into the team Hall of Fame. His number will probably be retired and he may one day be elected into the national baseball hall of fame and a statue may be erected in his honor. But right now, he is a drain on Seattle and a divorce appears to be the only option for both sides.
Enjoy Felix while you can, because these last handful of starts are probably the last you'll see of him in a Mariners uniform. Is there a small chance Felix is back in 2020? I suppose. But I'd put the odds at less than 1%.