Sodo Mojo's Seattle Mariners Twitter Mailbag #2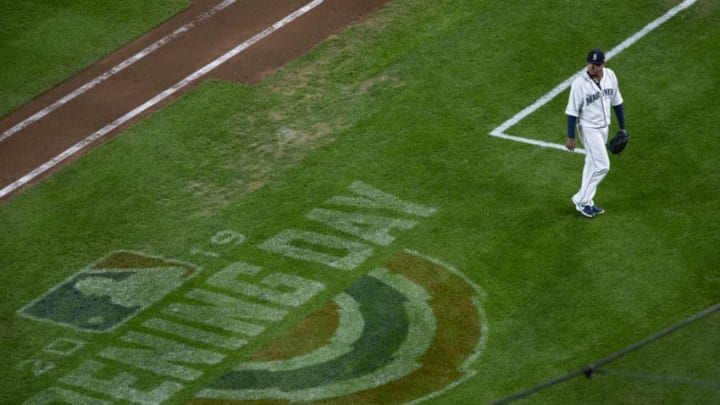 SEATTLE, WA - APRIL 01: Felix Hernadez #34 of the Seattle Mariners walks off the field after his first non-Opening Day start in 10 years during the sixth inning against the Los Angeles Angels of Anaheim at T-Mobile Park on April 1, 2019 in Seattle, Washington. (Photo by Lindsey Wasson/Getty Images) /
As we slowly wind down the 2019 Seattle Mariners season, the intrigue of the winter and the 2020 season are beginning to ramp back up. With all the curiosity floating around, we open ourselves up to your questions.
The format for this article is pretty self-explanatory. We took to our Twitter account (@sodomojoFS) and put out the bat signal for your questions. If you ever have any Mariners questions you want to be answered on future Twitter mailbags, send us the question any time with the hashtag SodoTMB (#sodoTMB) and we will include it in our next mailbag article.
Today, we have 3 solid questions from @caseycosgrove, @bsbburner, and @Seattle_09. With that being said, let's get started:
Well right out of the gate, I have to make so assumptions about you so here it goes. I am assuming you are talking strictly at the MLB level. I could be wrong, but if you don't care enough to watch the Mariners, you probably aren't paying attention to the farm system either. I'm going to assume you know about the trades as well.
But since the All-Star break, the Mariners have played some pretty good baseball. After coming out of the break losing their first 5 games, they have a 17-17 record since then. While most of those wins have come against sub-.500 teams, they did look significantly better than other rebuilding teams like the Tigers, Royals, and Orioles, as well as the Blue Jays. They even took a series against the Rays last weekend.
Individually, Kyle Seager has been one of the best hitters in baseball for the past month, raising his current season-long triple slash to .250/.328/.496, right in line with his career norms. The catching tandem of Omar Narvaez and Tom Murphy has been the best in baseball and both catchers have a good chance to hit 20 home runs.
Marco Gonzales has been rock solid, posting a 3.32 ERA in his past 7 starts with 39 strikeouts and an opponents OPS of .678. And surprisingly, the bullpen has been decent thanks to Matt Magill, Matt Wisler, Sam Tuivailala, and Anthony Bass.
On the negative side of things, Mallex Smith and Yusei Kikuchi have really struggled, although Kikuchi did mix a complete game shut out into the recent string of meh starts. Daniel Vogelbach hasn't looked MLB quality in months. And the rotation has had a rough few turns.