Mariners cap off busy deadline, send Mike Leake home to Arizona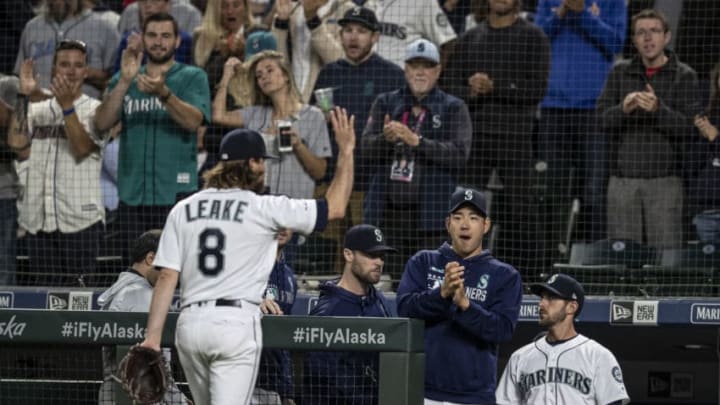 SEATTLE, WA - JULY 3: Starting pitcher Mike Leake #8 of the Seattle Mariners acknowledges fans and teammates including Yusei Kikuchi #18 of the Seattle Mariners (2R) after coming off the fiel during the eighth inning of a game against the St. Louis Cardinals at T-Mobile Park on July 3, 2019 in Seattle, Washington. The Cardinals won the game 5-2. (Photo by Stephen Brashear/Getty Images) /
The Seattle Mariners have one of the most aggressive GM's in the game and when the deadline appeared to be passed, something didn't sit right. Did the Mariners really not find a taker for Mike Leake?
As it turns out, the Mariners and GM Jerry Dipoto had found a taker, but just barely. With just minutes to spare, the Mariners were able to facilitate a deal to send begrudged RHP Mike Leake back to his home state of Arizona.
In his post-deadline press gaggle, Dipoto confirmed that he hadn't had any discussions regarding Leake for the day, only to be contacted by the Arizona Diamondbacks a mere 20 minutes before the deadline had passed.
The deal came together and the trade was not officially agreed too and sent to the MLB offices until there were just 68 seconds left to go. At final tally, the Mariners sent Leake home to Arizona along with cash for 23-year-old minor league infielder Jose Caballero.
The cash changing hands is a bit of a mystery, but most reports now agree that the Mariners are eating most of the $19 million they still owe to Mike Leake, saving just $6 million on the contract.
In exchange for the veteran RHP, Seattle snagged Caballero who actually has some legitimate upside. When you learn about his profile, you can see why Dipoto liked the infielder. A quick and dirty scouting report tells of an athletic, versatile, speedy infielder, with good judgment of the strike zone and some interesting power potential.
In just 43 games with High-A Visalia in the California League, Caballero hit .268/.388/.396 with 28 steals in 35 attempts. Obviously, the two numbers that should jump out to people are the 28 steals and the .388 on-base percentage. But he also has a .447 slugging percentage in his career, so there may be more power there than meets the eye.
Primarily a third baseman, Caballero does have experience at shortstop and third base. He has missed some significant time with a wrist injury but is actually set to make a rehab appearance in the AZL before joining Modesto tomorrow.
For the Mariners to clear a decent chunk of change off their payroll for next season while acquiring an interesting lottery ticket is a clear win. And keeping with the theme of the Mariners deadline approach, it was solid but unspectacular.