Seattle Mariners Rumors: Latest Chatter from MLB Draft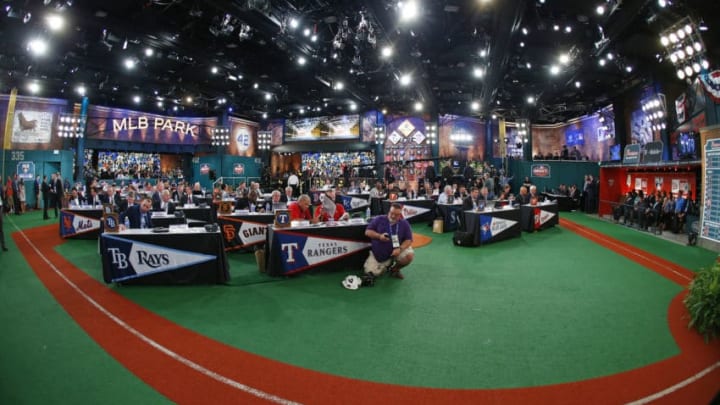 SECAUCUS, NJ - JUNE 5: Representatives from all 30 Major League Baseball teams fill Studio 42 during the MLB First-Year Player Draft at the MLB Network Studio on June 5, 2014 in Secacucus, New Jersey. (Photo by Rich Schultz/Getty Images) /
The Seattle Mariners are getting a much needed day off, but the work never stops for the scouting department. The MLB Draft is just around the corner and some rumors are starting to swirl around.
The Mariners may be in the middle of the most interesting rumor circulating the draft community. In Keith Law's first Mock Draft of the year (subscription only), he played it safe and had Dipoto and company selecting Bryson Stott.
But he also left an interesting tidbit on the table, dropping that he has heard whispers of one player "being connected to Seattle on an over-slot deal". Rumors this time of year are a dime a dozen, but the rumor was backed up on Kiley McDaniels and Eric Longehagen's second Mock Draft of 2019 for Fangraphs.
McDaniels and Longehagen mocked New Jersey prep shortstop Anthony Volpe to the Mariners at pick 20, the same player Keith Law had heard connected to the team on an over-slot deal. This connection is interesting for a few reasons.
First, it would be the first time the Mariners pulled the trigger on a prep player in the Jerry Dipoto era. Now, to be fair, the team isn't opposed to drafting a high school player first. They have since told people that the number one player on their 2018 draft board was Jared Kelenic. But the team didn't draft a prep player until round 11 last year (Damon Casseta-Stubs), so it's noteworthy.
Second, Volpe isn't generally viewed as a first-round talent. In fact, he may not be the best prospect on his own high school team. Jack Leiter is the star pitcher of Delbarton High and a strong commitment to Vanderbilt might be the only reason he's not a consensus Top 40 pick.
Recent rumors have suggested that Volpe intends to honor his commitment to Vanderbilt as well unless he receives a signing bonus of $3 million or more. The slot value of pick 20 is $3.2 million so they wouldn't have to sacrifice anything monetarily to sign Volpe.
Drafting Volpe in the second round is a possibility, but in order to match Volpe's demands, they would need to find an additional $1.9 million of slot money. That is roughly the equivalent of sacrificing picks 76, 97, and 126 unless they strike a bargain with their first-round pick.
In terms of the tools Volpe posses, he does get good marks for his defense but his arm is fringe-average for the position and a move to second base or centerfield isn't out of the question. The bat is solid and Volpe's approach is good. He makes a lot of hard contact, but he doesn't generate much power.
Scouts rave about the makeup of the young man and he has performed well in his opportunities against the plus competition. Volpe runs well, but won't be a base stealer at the next level. The Mariners would have to believe they can develop more power in the right-handers' frame or that he can become a 60-grade hitter down the road to justify the selection at pick 20.
While a lot can happen in the next 3 weeks, the rumor being put out there by 3 of the industries best draft experts is newsworthy. Volpe is a classic overachiever who can get more from his tools than most can. But the selection would still be a reach in a vacuum.
The draft cannot be defined by one pick. The totality of the draft class can outweigh all the negatives. But reaching for a player while overspending is a dangerous gamble to make. Could Seattle draft Volpe and still get a first-round talent in Round 2? Yes.
Could Volpe alone justify his potential selection at pick 20? Yes. But it wouldn't be too likely. Only time will tell if this is a smokescreen or an actual nugget of information. But with just under a month to go before draft day, all we can do is wait and see.