Seattle Mariners trade David Freitas to Milwaukee Brewers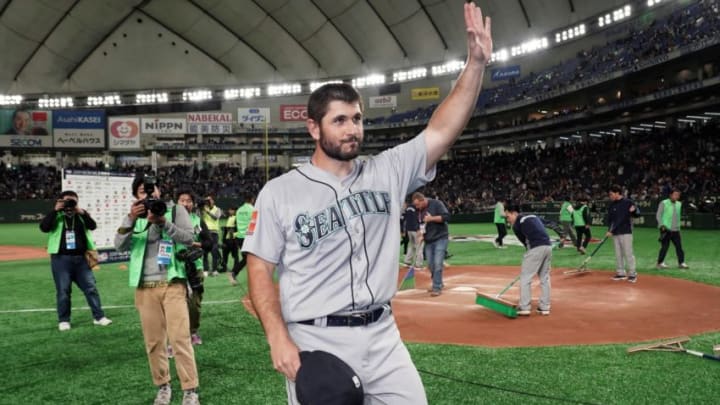 TOKYO, JAPAN - MARCH 18: Catcher David Freitas #36 of the Seattle Mariners applauds fans after the preseason friendly game between Yomiuri Giants and Seattle Mariners at Tokyo Dome on March 18, 2019 in Tokyo, Japan. (Photo by Masterpress/Getty Images) /
Yes, yes, the Seattle Mariners have made a trade. What else is new?
Per Robert Murray of The Athletic, Jerry Dipoto has swapped veteran catcher David Freitas to the Milwaukee Brewers for a minor league reliever. This is already Dipoto's third trade since the start of the season.
This comes roughly two weeks removed from the Mariners' acquisition of Tom Murphy, which consequently led to Freitas' demotion to Triple-A Tacoma. With José Lobatón and Austin Nola already in Tacoma, the Mariners had a surplus of veteran catching depth.
Freitas broke spring camp on Seattle's 25-man roster and even started the first of their four-game set with the Red Sox. In 2018, Freitas appeared in 36 games for the Mariners, slashing .215/.277/.312 with one home run and five RBIs.
The move clears a spot on the Mariners' 40-man roster, which now sits at 39. It's possible that another trade is on the horizon, or Seattle is looking to select the contract of one of their minor leaguers. With Wade LeBlanc landing on the 10-day Injured List earlier today, it could indicate a call-up for Tommy Milone.
They could, however, decide to add either Lobatón or Nola instead to keep three catchers on the 40-man.
In return for Freitas, the Mariners are getting 23-year-old relief prospect Sam Biasi. The Brewers acquired Biasi last August in a swap of minor leaguers. In 33 appearances for both the Royals and Brewers' Single-A squads, Biasi posted a 4.34 ERA and struck out 57 hitters in 56 innings of work.
Biasi was Kansas City's 11th round pick in the 2017 MLB Draft as a starter. Failing to find a third above-average pitch, Biasi was then converted into a reliever and has shown promise with a fastball that tops out at 95 mph and a curveball that misses wood on a fairly consistent basis.
So far, Biasi has three appearances this season. He has yet to allow a run in his four innings of work thus far, striking out five in that time.
Biasi is a college arm now entering his second full season in the minors, so a potential rise to the MLB level could come relatively quickly. It'll be interesting to see which minor league affiliate the Mariners assign him to.