Seattle Mariners: 5 (Semi) Bold Predictions for 2019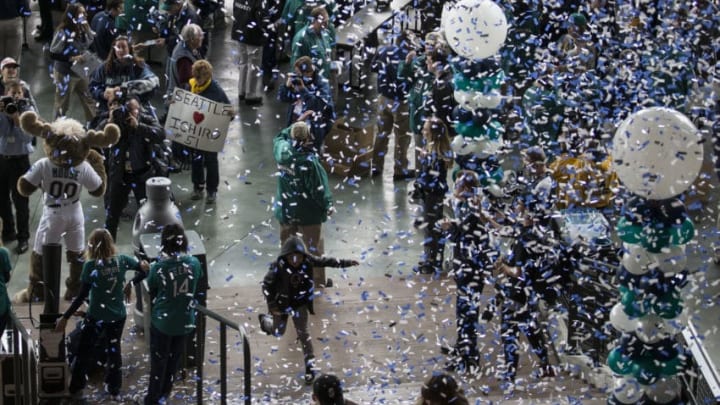 SEATTLE, WA - MARCH 29: As confetti rains down, fans make their way into the stadium before a game on opening day between the Cleveland Indians and the Seattle Mariners at Safeco Field on March 29, 2018 in Seattle, Washington. (Photo by Stephen Brashear/Getty Images) /
When you write a sports blog, it is almost a law that you need to make bold predictions. So today, we present 5 (semi) bold predictions for the Seattle Mariners in 2019.
I always like to preface these types of articles with a bit of a disclaimer. The word "bold" means different things to different people, especially when the Mariners are involved. So for context, the definition of bold in this context is the mild kind.
I could sit here and tell you that Mitch Haniger will win the MVP and the Mariners are going to the World Series, but then I'd have to defend those positions and I don't think I can. You see, I'm not out here to throw stupidity against the wall and hope one thing sticks so I can beat my chest and call myself a genius. I just want to present you guys with possible, but unlikely, scenarios for the upcoming season. So without further ado, let's get started.
1. Yusei Kikuchi Win American League Rookie of the Year
PEORIA, ARIZONA – FEBRUARY 18: Pitcher Yusei Kikuchi #18 of the Seattle Mariners poses for a portrait during photo day at Peoria Stadium on February 18, 2019 in Peoria, Arizona. (Photo by Christian Petersen/Getty Images) /
So we start our list with a pretty easy one. Could the Mariners newest arm win Rookie of the Year? Absolutely. He is, after all, 27-years-old with tons of seasoning in a very respectable pro league. But does this qualify as bold?
I'm not going to try and sell you on the boldness of this claim, but I don't think Kikuchi is the favorite by any stretch, so I'm counting it as bold. Sure, Kikuchi is pretty high on the assumed nominees, but other rookies are even more hyped than him.
Consider how excited everybody in the baseball world is for Vlad Guerrero Jr. of the Toronto Blue Jays. There is so much hype surrounding him, if he is even 75% of what many expect he can be, he will likely win the award running away. Eloy Jiminez of the White Sox is also a serious candidate.
Perhaps most importantly to Mariners fans: if Kikuchi does win the Rookie of the Year, it means he was good in 2019, cementing him as a building block like the current regime hopes he is.