Sodo Mojo Presents Top 30 Mariners Prospects: Number 8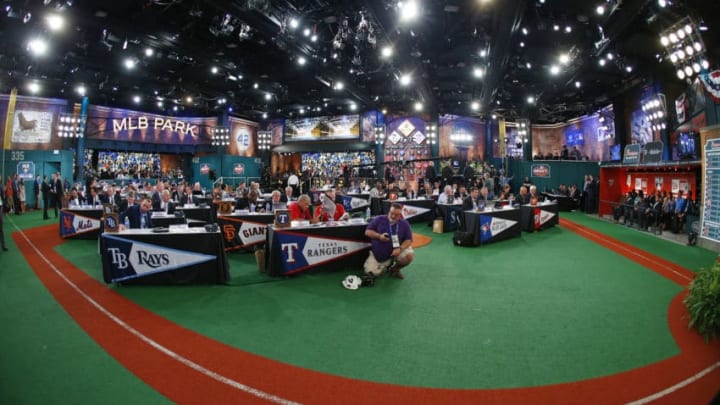 SECAUCUS, NJ - JUNE 5: Representatives from all 30 Major League Baseball teams fill Studio 42 during the MLB First-Year Player Draft at the MLB Network Studio on June 5, 2014 in Secacucus, New Jersey. (Photo by Rich Schultz/Getty Images) /
The Mariners played a game today. Sure, it didn't count for anything. But it is nice to see baseball back on TV. But today, we continue our countdown of the Top 30 Prospects in the Mariners system with a look at #8 on the list.
Of course, coming in at number 8 is the Seattle Mariners first-round pick of the 2018 draft, right-handed pitcher Logan Gilbert. The 6'6″, 225 lbs righty from Stetson University led all of D-1 baseball in strikeouts, leading the M's to take him 14th overall.
Unfortunately, Gilbert contracted mononucleosis last summer, and we haven't been able to see him pitch for the Mariners organization as of yet. But fans should still be plenty excited to see the youngster on the mound in the near future.
Gilbert has a unique blend as a high-floor, high-ceiling type of arm. Most scouts believe he will wind up as a solid number 3 starter with the upside to be even better. If everything goes wrong, Gilbert still profiles as a high-leverage reliever, perhaps even a bullpen ace or closer.
His fastball sits in the low 90's but can reach 97 mph on occasion. The pitch has good, arm-side movement, which should generate plenty of swings-and-misses as well as week groundballs. Gilbert even toyed with a cutter in college, a pitch the Mariners have been teaching many of their young arms.
In addition to the plus fastball, Gilbert also has an above-average slider, which shows good tilt and flashes plus at times. Some scouts believe the offering has an excellent chance to become a plus offering, give Stetson two devastating wipe-out offerings.
Gilbert also throws a curveball. For now, the pitch is little more than a get me over and change of pace pitch, but the hope is that it will become at least average with time. The changeup should be solid average when all is said and done.
Unlike many college flamethrowers, Gilbert already possesses above-average command and could become even more refined while working with the Mariners.
With the solid pitch mix, as well as 2 potential double-plus offerings, Gilbert has all the stuff to rocket up these prospect ranks quickly. Assuming he is healthy, Gilbert should start the year in the "Sally" League, pitching for the West Virginia Power.
Seattle will almost certainly limit his innings in pro ball this season, as the righty has never thrown more than 120 innings in a season. There is an outside shot of Gilbert heading to High-A Modesto, but he more than likely will spend the season in the Sally League, then possibly get a stint in the Arizona Fall League.
If everything goes right for Gilbert, a call up in 2021 is very much on the table. He has the refinement and stuff to be a quick riser, but the Mariners have no need to rush him to the big leagues.
Scouting Grades- Fastball: 65 Slider: 55 Curveball: 45 Changeup: 50 Command: 55 Probability: 4/5
The Mariners have built up quite a wealth of power arms in recent years, but Gilbert may be the best of them all. He has a small chance to develop into the "ace" type of pitcher, following in the footsteps of former Stetson greats Corey Kluber and Jacob deGrom.
The Mariners most certainly hope this is the case, but only time will tell. What the M's do have is a future #3 or #4 starter in their low minors, with a chance to race through the minors and rocket up our ranks.