Seattle Mariners: Extending Mitch Haniger May be Easier than Expected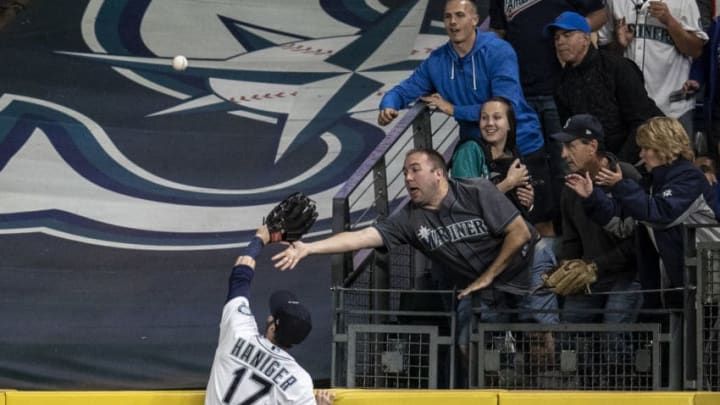 SEATTLE, WA - AUGUST 2: Leftfielder Mitch Haniger #17 of the Seattle Mariners climbs the wall in an effor to get to a two-run home run hit by Kendrys Morales #8 of the Toronto Blue Jays off ofg Juan Nicasio #12 of the Seattle Mariners that also scored Randal Grichuk #15 of the Toronto Blue Jays during the seventh inning of game at Safeco Field on August 2, 2018 in Seattle, Washington. (Photo by Stephen Brashear/Getty Images) /
Its cold in Seattle. Like, really cold. The Emerald City was covered in a layer of snow over the weekend, similar to the rest of the country. Baseball, being as poetic as ever, sits in an ever similar state. Over 100 Free Agents still remain on the market with just under a week left until Mariners pitchers and catchers report.
Manny Machado, Craig Kimbrel, and many others still remain in search of a job for the 2019 season. Bryce Harper, one of the faces of baseball, is still unsigned. But what does all of this have to do with the Mariners?
Now I'm not saying that the Mariners should sign Bryce Harper, although that wouldn't be their dumbest move if they want to accelerate the timeline. For the second straight year, the game of baseball is seeing a massive free agent freeze throughout the offseason. While this, of course, has major effects on those in the free agency pool, the repercussions will also be felt by those already on a team. In this case, that player is none other than Mitch Haniger.
"Rebuild", "Retool", whatever you want to call it, the Seattle Mariners are living it. From the beginning, GM Jerry Dipoto has named Haniger as a player that he would like to keep moving forward. Mitch Is expected to remain a catalyst in the Mariners lineup as this retooling comes to fruition. The thing is, Haniger is set to begin the Arbitration process in 2020 and then to become a free agent after the 2022 season.
You don't have to go back very far to find a player sign a contract that buys out their Arbitration years as well as the first few years of free agency. At the end of January, the Kansas City Royals and 2B Whit Merrifield agreed to a four-year deal worth nearly $17 million. Merrifield put up a 5.5 WAR season in 2018, slashing .304/.367/.438 with 45 stolen bases. Merrifield was in a similar position to Haniger, as he was in his final year before Arbitration.
Signing Haniger to a deal with the same structure is feasible. At 28 years old, Haniger is two years younger than Merrifield. He too will enter his first year of Arbitration in 2020. Haniger slashed .285/.366/.493 with 26 home runs in 157 games. He is scheduled to be a free agent just a few years after the Mariners projected window of contention at age 32, which is not an enviable age to be a free agent this day and age.
An extension of this kind would benefit both sides. From the Mariners perspective, they could have a cost-controlled right fielder who finished 11th in the AL MVP vote I'm 2018. They will know how much money they will be owing him, which will help them plan from a financial standpoint for the future.
For Haniger, an extension that buys out his Arbitration years will give him financial security for the next few years instead of having to put up good numbers to get paid. He won't have to worry about getting injured and then making less the next year because of it.
This is where Bryce Harper comes back into play. It is the middle of February and one of the games star right fielders has yet to sign with a major league club. This helps from the Mariners standpoint because Haniger may not want to test the free agent market as a right fielder that will be six years older than Harper currently is. The free agent freeze could just as easily effect Haniger in the same way once he hits the market, and that is not a position that many players want to find themselves in.
Because of this, the Mariners may have the edge in signing Haniger to an extension, one that even buys out a couple years of free agency. Haniger again would get the security that is so crucial to the players. The Mariners would get to keep one of their star players through what they believe will be their competitive window.
Haniger would provide leadership as well as a stop-gap just in case players like Jared Kelenic, Julio Rodriguez or Kyle Lewis don't pan out. He would likely become the face of the franchise in the season where the Mariners finally break the longest playoff drought in all of the professional sports.
There is a side to Harper's upcoming contract that could be a thorn in the side of the Mariners in extending Haniger. Harper is asking for upwards of $25 million AAV over a 7+ year deal. Harper played to a 1.3 WAR in 2018 with a slash line of .249/.393/.496 with 34 home runs and a -3.2 defensive WAR. Haniger posted a 6.1 WAR season with .2 defensive WAR. In short, Haniger may be asking for a lot of dough.
It will be interesting to see what Harper ends up signing for because Mitch Haniger is basically a poor mans Bryce Harper. The asking price of Haniger will likely be closer to what Harper receives than what we saw with Whit Merrifield, even though both Haniger and Merrifield put up better seasons than Harper.
After last season, Mitch Haniger has cemented himself as one of the top right fielders in the game. Signing him to an extension, even if it is just a buyout of his Arbitration years, would serve as a huge move for the Mariners as they look to contend in a few years.  A Haniger extension seems much more plausible than it was when the offseason began and it may just be one of the many moves that Jerry Dipoto has up his sleeve as the 2019 season unfolds.