Seattle Mariners: 3 Bold Predictions for 2019 Trade Deadline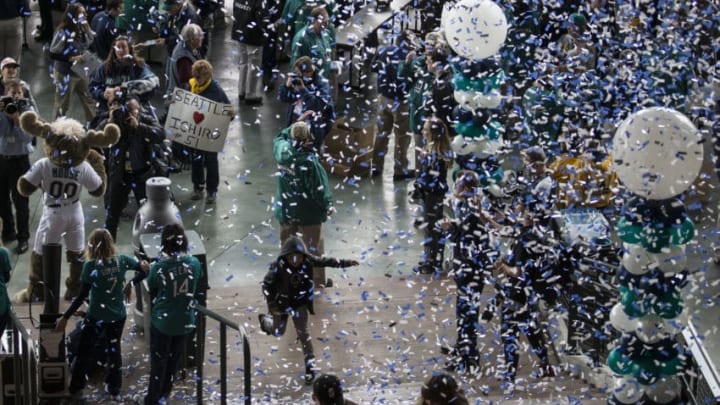 SEATTLE, WA - MARCH 29: As confetti rains down, fans make their way into the stadium before a game on opening day between the Cleveland Indians and the Seattle Mariners at Safeco Field on March 29, 2018 in Seattle, Washington. (Photo by Stephen Brashear/Getty Images) /
We haven't even started Mariners spring training and this writer is thinking ahead to the months of June and July. So today, why not make some claims without existing facts to back me up. It is the internet after all.
However, because of all these unknown factors, let's at least understand what we are actually doing here. Predicting any in-season moves without a season is a fruitless task. I don't know how well the team is holding up, which players are performing well or not, or what injuries around the league have happened.
To expect to be able to say "Mitch Haniger gets traded to St. Louis for x,y, and z" is a bit absurd. However, it is fun to think about the potential paths a team can take in an attempt to cover all the possible angles.
Do I expect all these predictions to be a reality? No, but that isn't the point. I'm not trying to actually predict anything. These are bold predictions. Basically, guy feelings based on a small, incomplete data set. But it's all about fun as we eagerly await spring training. So without further ado, let's do this.
SEATTLE, WA – SEPTEMBER 28: Dee Gordon #9 of the Seattle Mariners celebrates with Mike Zunino #3 after he scored on a single by Cameron Maybin #10 in the eighth inning against the Texas Rangers at Safeco Field on September 28, 2018, in Seattle, Washington. (Photo by Lindsey Wasson/Getty Images) /
The general consensus is that if Gordon has a return to his old form, the Mariners will trade him and his contract for a halfway decent prospect or two. Not so fast. It is true that Dee is an aging speedster. It is also true that the Mariners did make it known Gordon was available this off-season. So why is he staying put?
For a reason, I'll never fully embrace but is still valuable: leadership. Throughout this off-season, one name has been consistently mentioned from players coming to Seattle from outside the organization: Dee Gordon.
Whether it be a phone call, text, a hangout, whatever, Gordon has been a part of the welcoming committee. It is a small thing, easy to overlook. But the leadership circle of the Mariners took some hits with the departures of Robinson Cano and Nelson Cruz. And for better or worse, Dee appears hellbent on filling that gap.
Ultimately, if Dee returns to 2017 Dee, or even pre-toe injury 2018, Gordon is going to have a lot of potential suitors and a deal could become too good to pass up. But Dee has value to the Mariners clubhouse that cannot be quantified. For those reasons, I think it's possible he makes it all year.