Seattle Mariners: An offseason recap for the Seahawks fan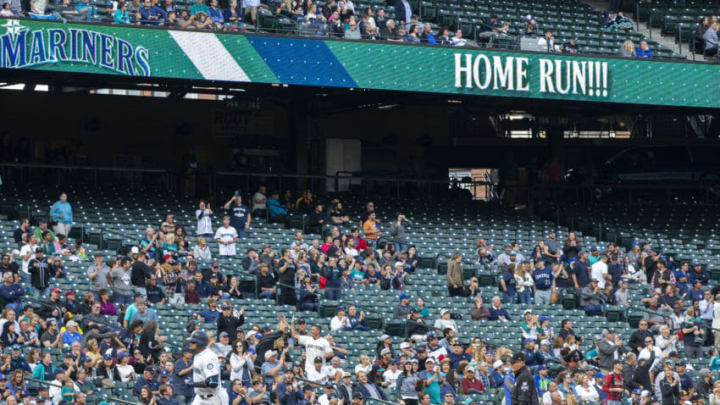 SEATTLE, WA - SEPTEMBER 12: Nelson Cruz #23 of the Seattle Mariners runs the bases after hitting a home run, his 1,000th RBI, in the fifth inning off of the San Diego Padres at Safeco Field on September 12, 2018 in Seattle, Washington. (Photo by Lindsey Wasson/Getty Images) /
After a surprisingly successful season, the Seahawks have unfortunately been eliminated following Saturday night's Wild Card loss to the Dallas Cowboys. Now, for many Seattle sports fans, attention completely shifts towards the Mariners, who find themselves in a very similar situation to that of their football counterparts.
For the last few years, the Mariners had a decent enough formula to win games and be in the hunt for a playoff spot. However, this middle-of-the-road mentality ran dry in 2018, after Seattle blew a 10-game lead for the second Wild Card spot and appeared severely outmatched when playing the American League's upper echelon of teams.
Much like the Seahawks this past season, the Mariners have decided to clean house and either trade a good chunk of their star players, or let them walk via free agency. While the majority of Seattle's veterans were shipped out strictly for future financial flexibility, the likes of Edwin Díaz and James Paxton were dealt to capitalize on a young player's success at an insignificant position (for a rebuilding team) to acquire a breadth of young, controllable talent roughly one-to-two years away from the Majors.
Entering the offseason, it was hard to imagine the Mariners ever following through with such a plan. Their m.o. has always been to "stay competitive," which hasn't worked out so well in nearly two decades. Finally, they've accepted their own mediocrity and aim to build a team capable of competing with baseball's best.
Given the Mariners' historic woes, not every fan has jumped on board with their plan. For the casual Seattle sports fan, or one who leans more toward the Seahawks, it certainly doesn't make a lot of sense to them for the M's to suddenly give up on contending when they were in command of a playoff spot for most of the 2018 season, and were seemingly one or two pieces away from finally breaking through.
Even if the Mariners were to stay the course this offseason, they were never going to get that significant piece to put them over the top. While spending money isn't a problem for them, having nearly $100 million wrapped up in four players (Nelson Cruz, Félix Hernández, Kyle Seager, and Robinson Canó) would be crippling to any team, especially when Hernández and Seager were abysmal in 2018.
Ironically, those are the two players that remain in Seattle, with Cruz going to Minnesota in free agency and Canó being traded to the Mets alongside Díaz. Fortunately for the Mariners, they'll have finally rid themselves of Hernández's horrendous contract after this season, and any sort of bounce-back season from Seager could build his trade value enough to dump a decent amount of his remaining salary on to another team.
In order to dump some of their other big contracts, the Mariners have also had to take some in the form of Edwin Encarnación, Jay Bruce, and Anthony Swarzak. The trio come with short-term commitments, with Encarnación and Swarzak on the final year of their respective contracts, and Bruce with just two years remaining.
It's likely that the Mariners will find a trade partner for Encarnación within the coming weeks. Bruce and Swarzak could build enough trade value over the first few months of the season to help relieve Seattle of some financial burden and bring back something decent in the process.
This offseason hasn't been just about salary relief, however, but more about changing – or maintaining – a culture, and building towards the near future. For some time, the Mariners have had one of baseball's weakest farm systems and neither had the draft capital, nor saw themselves in a position to change that. Even if the Mariners were able to compete for a postseason berth in 2019, they entered the year as one of baseball's oldest teams. This was an unsustainable team, which completely went against Jerry Dipoto's philosophy.
In short: it was Mitch Haniger and Jean Segura and not a whole lot else. Segura was dealt to Philadelphia for being a problem in the clubhouse in the latter months of 2018, forcing the Mariners' hand and ultimately bringing back a relatively underwhelming package headlined by J.P. Crawford.
After finishing 11th in American League MVP voting, Haniger has suddenly become the face of the Mariners with the departures of so many of their former stars. But Haniger may not be far behind Segura, as Seattle poses a significant amount of outfield depth within their farm and could benefit well from the 28-year-old seemingly overachieving.
With some of the moves the M's have made this offseason, they've brought in a much-needed breath of life into their farm system. Adding the likes of Justus Sheffield, Jarred Kelenic, and Justin Dunn has, at the very least, made them a respectable bunch. Those three join Kyle Lewis, Julio Rodriguez, Evan White, and Logan Gilbert atop Seattle's farm rankings, with all seven players set to make their MLB debuts no later than 2022.
The Mariners have also added a few young players that are already at the Major League level, but have at least three years left of affordable team control on their contract in Mallex Smith, Omar Narváez, and Domingo Santana. These three are very important to Seattle's future, as all three could realistically be with the team by the time they choose to contend, or be traded down the line for something that could help the M's even further.
Seattle's biggest acquisition of the offseason thus far, however, has been their most recent: Japanese starting pitcher Yusei Kikuchi. The 27-year-old import is set to slide right in the middle of the Mariners' rebuilding rotation this season, and has the potential to be one of their premier starters by 2021 or sooner.
Most rebuilds take five or more years, but the Mariners are aiming to finish theirs in two. It's hard to imagine such a plan working, but things appear to be perfectly lined up for 2021. It's been a commendable job by Dipoto thus far, and he's certainly not done with over a month left until pitchers and catchers report.
Unlike the Seahawks, the Mariners' 2019 season likely won't end with a surprise playoff berth. But the pieces have been put in place for a quick turnaround, and now all that remains to be seen is the execution of their plan. If it works, this will be a very fun decade for Seattle sports.