Seattle Mariners: Remembering John Olerud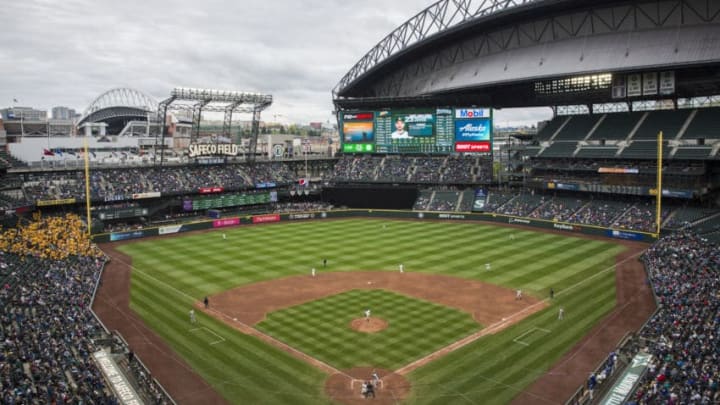 SEATTLE, WA - APRIL 15: A general view of Safeco Field as Felix Hernandez /
John Olerud was a great player throughout his 17-year-career, but he never seems to get the recognition he deserves. He was a part of World Series-winning teams, a record-breaking club while stacking up well above average numbers. Sodo Mojo takes a look at the career of the former Seattle Mariners first baseman.
When remembering the great 2001 Seattle Mariners ballclub, names like Ichiro Suzuki, Mike Cameron, Edgar Martinez and Bret Boone come to mind. Those four players each captured a wins above replacement number above 4.5, making for four out of the top five in that category.
Finishing fourth with a 5.2 WAR was a quiet, underrated first baseman named John Olerud; a player who always seemed to go under the radar.
The Start
Olerud's career started North of the Border with the Toronto Blue Jays. After getting drafted out of Washington State University in 1989, the former two-way player made his debut later that season.
Olerud's 1990 season was spent mostly as the club's designated hitter. But after performing well in that year, Fred McGriff was traded in the offseason, and first base now had an opening.
He spent a half-decade manning first for the Blue Jays. Winning a batting title, making an all-star appearance, and winning two World Series Championships. Olerud's impact was monumental, but as always, he seemed to be overshadowed by others.
More from SoDo Mojo
The Middle
When granted free agency, the quiet Olerud signed in the big city of New York with the Mets. In his three years playing at Shea Stadium, he hit .294,.354 and .298; the man was a great hitter. He helped the Mets make the playoffs, where they lost to the Atlanta Braves in the 1999 NLCS.
When becoming a free agent again after the '99 season, Olerud signed with the Mariners. Surround by stars Olerud made a quiet impact on back-to-back playoff teams. In those first two years in Seattle, Olerud was an all-star and a gold-glover combining for a slash line of .294/.397/.456, nothing unordinary for Olerud.
But as mentioned earlier, Olerud was seen as just another guy during those two years. His underrated reputation had a lot to do with his quiet, composed personality. He spent parts of three more years in the city, the '02 season, the '03 season and half of the '04 season.
The End
The Mariners released him in that 2004 year; he finally began to struggle. As a 35-year-old, Olerud was no longer an on-base-machine. But once he signed with the New York Yankees later that season, he seemed to be back to his old norm, as he hit above .280 once again. He helped the club make the postseason that season. The next year he did the same thing with the Boston Red Sox.
Next: Mariners "Trade A Day"- Yangervis Solarte
He finished on a strong note. Olerud hit from day one to his last day, with one little blip in between. He was a .295/.398/.465 hitter who made the playoffs eight times.
Olerud had a great career, a quiet career that deserves to be remembered far more than it currently is.