Sodo Mojo's Mariners Round Table #4: Ichiro, Unsung Heroes and More!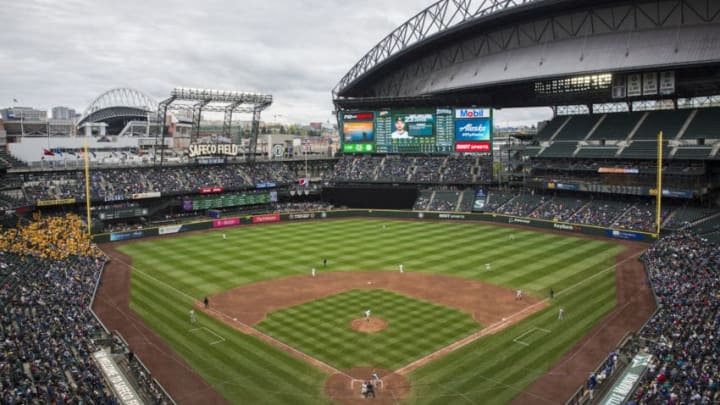 SEATTLE, WA - APRIL 15: A general view of Safeco Field as Felix Hernandez /
We are back at it with our fourth edition of the Sodo Mojo Mariners Round Table. This week, we take a look at the first week-plus of games. Who has been underrated, who is disappointing, and what the heck do we do with Ichiro?
We will discuss all of this as the Mariners battle it out against the Astros at Safeco Field. Seattle currently has a record of 8-5, and are in 3rd place in the AL West. With the choppy schedule behind them, the Mariners are now playing 14 consecutive days. With all that in mind, let's get started.
Question 1: How Would You Grade Felix Hernandez 4 Starts Into 2018?
SEATTLE, WA – APRIL 15: Felix Hernandez /
Ty Gonzalez:
He's had two great starts, one average start, and one absolutely abysmal start. For that, I'll give him a B. Felix's command has been a bit wonky, even in the games he pitched well in.
Walks have been a consistent issue, but he finally showed the ability to put hitters away in the Oakland game. That's not an easy lineup to do that against, either. He'll never be as dominant as he used to be, but if Felix can continue to build confidence in his command and limit the walks, thus lowering his pitch count, he'll find success. The stuff he has is still good. It's all about command for him.
Michael Johnson:
Hard not to like what we've seen out of Felix through his first four starts. He came out on Opening Day, a decision many thoughts was made more out of respect for what he has done rather than what he has left to give, and looked like the ace he once was. Felix followed that up with a forgettable outing against the Giants, giving up 8 ER in a loss down in San Fran. But since then, he's looked solid and despite taking the loss on Sunday, Felix looked as good as he has in years.
His fastball command has been much improved and has been the key to his successful outings. He's throwing his curve for strikes and locating it down and out of the zone in pitcher's counts. The change-up is diving in on righties and away from lefties. And most importantly, the swagger is back. Felix is "the King" when he is pitching with confidence. In his first four starts, he's looking like a guy who knows he can win every pitch. That's been missing in recent years. Early season grade: B+.
Jeff Nooney:
I would give Felix a solid B. Look, we all know the miles out on his arm. He's never going back to being 2011 Felix Hernandez. I expected his final stats to be about 150 innings of 4.25 era. He pitched great in his last start, but he will be rocked again. Felix is doing as well as can be expected of him.
Colton Swanson:
I'd give Felix a solid 7 (of 10). His stuff on Sunday was really encouraging and his Opening Day start also looked really good. He hasn't been awful and if you take out the game in San Francisco, the King looks like he may have figured out how to work around hitters even when he doesn't have overpowering stuff. It's certainly hard to have anything bad to say about Felix and I applaud the effort he has given so far.
Colby Patnode:
I'd give Felix a B-. His recent start against Oakland A's was his best of the year, and we saw the blueprint for success going forward. More sliders and 2 seam fastballs, fewer sinkers. Throw the changeup for strikes, and then expand the zone. If Felix can use this formula going forward, he could be the solid number 2 starter the Mariners need.
Dan Clark:
Felix Hernandez this year has been a smaller version of, dare I say it 'The Fernando Rodney Experience'. In saying that though his last two starts have been great. I've loved what Felix has produced in 3 out of 4 starts. He is building my confidence and felt more like old Felix with the result of losing a 2-1 game but saying that at the moment I'm giving Felix the grade of B+.