Yankees DFA Cave, Mariners Should Explore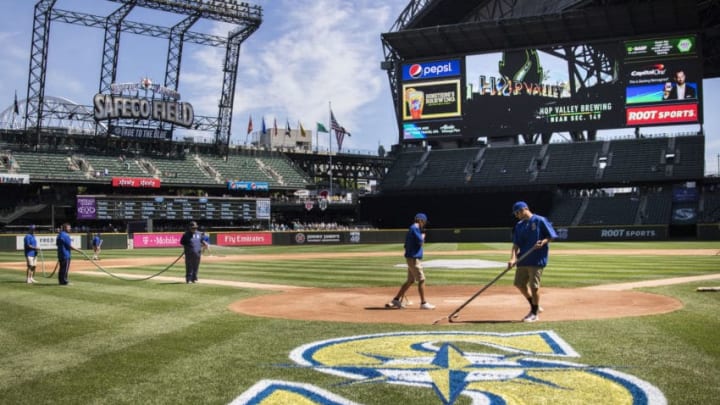 SEATTLE, WA - JULY 09: The Seattle grounds crew prepares the field before the game between the Seattle Mariners and the Oakland Athletics at Safeco Field on July 9, 2017 in Seattle, Washington. (Photo by Lindsey Wasson/Getty Images) /
After inking second baseman Neil Walker to a 1-year deal, the Yankees designated Jake Cave for assignment. The Mariners are in need of OF depth, and should explore the depths of Jake Cave.
The Mariners were so desperate for outfield depth after Ben Gamel tweaked his oblique, they had to drag 44-year-old Ichiro away from the gates of retirement to plug the boat. They are now 1 injury away from serious problems in their outfield.
However, the Yankees have seen fit to DFA a player with the exact prototypical traits Jerry Dipoto covets. Jake Cave could be Dipoto's second Mitch Haniger.
Like Haniger, Cave is considered an "older prospect" as he has yet to make his MLB debut at age 25. Cave does not posses any 1 stand out skill, but does grade as relatively average across the board. Finally, like Haniger and Gamel, and Vogelbach, and Mike Ford, Cave has performed at the highest levels of the minors.
In 2017, Cave started the season in AA Trenton where he slashed .266/.317/.516 in 33 games before being promoted to AAA. It is here were Cave broke out in a big way. In 72 games, Cave slashed .324/.367/.554 cranking 15 home runs and 30 extra base hits total.
Cave also poses a solid tool belt to work from. This includes a solid average hit, arm, speed, and field tool, all ranging between 50-55 on the 20-80 scouting scale.
While not a  great base-stealer, Cave is still a smart base-runner with good speed. He uses that speed to play an average center field, and should be plus in a corner spot, though his arm is better suited for left field.
If this profile is starting to sound familiar, it should. These are the same things that were said about Ben Gamel and Mitch Haniger. Dipoto loves to find the minor league producers who are blocked at the big league level. Jake Cave could be his next find.
Cave has blossoming power, and it could become his 5th average tool. At worst, Cave appears to be excellent depth for the Mariners to stash in AAA Tacoma. They currently have a spot on the 40 man roster open.
Also, the Mariners and Yankees have been busy trade partners in the Dipoto era. Furthermore, both are likely to make another deal before the end of April to secure the right to Mike Ford. The two sides could easily make that deal now, and the Mariners could walk away with 2 potential pieces for their 2019 season.
The Mariners are not interested in winning in 2018, and have not been willing to commit to any player who may jeopardize their current "slow burn rebuild". Cave would give Seattle a player who could help them in 2018. If Cave continues to hit like he did in 2017, he becomes an excellent trade chip. Or perhaps an integral piece for the Mariners.
Next: Signing Ichiro Isn't The End OF the World
The worst thing that can happen is that Cave shows he is a AAAA player. One who would cost the Mariners next to nothing to acquire. A player like Cave would jump into the Mariners Top 15 prospect ranks, and is exactly the type of player Seattle should be looking to hoard in the coming years.