The Mariners Never Get To Feel The Wonders Of Winter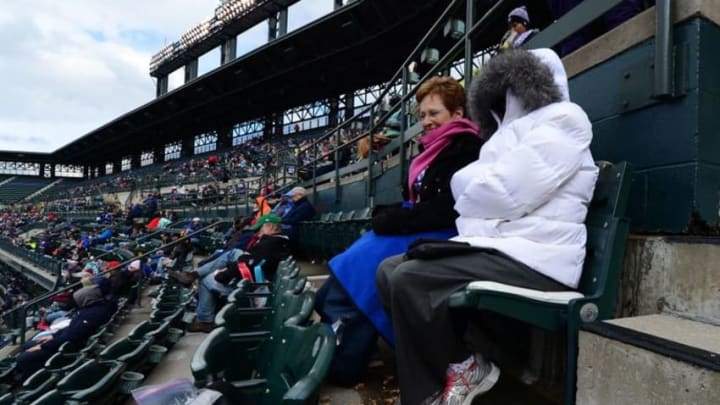 May 10, 2015; Denver, CO, USA; General view of fans during the cold temperature in the fifth inning of the game between the Los Angeles Dodgers against the Colorado Rockies at Coors Field. The Dodgers defeated the Rockies 9-5. Mandatory Credit: Ron Chenoy-USA TODAY Sports /
It's official: today is the first day of winter, although it felt like the season started a while ago. But while Safeco is currently feeling the chilly impact of mother nature, the Mariners hometown faithful have never gotten to experience this during the season. This is in part due to the climate of the Pacific Northwest, but mainly because the M's have played in a dome or in a climate-controlled stadium with a retractable roof.
While it's not common during the season, grounds crews in certain cities like New York, Chicago, and Denver sometimes have to deal with the wintery precipitation know as snow. This is not the case for the Mariners grounds keepers.
In Seattle, not only has it been rare to see snow inside Safeco Field at any point during the year, but the occasional rain delay has been a non-factor as well.
This is because the Mariners have had a literal roof over their head for most of the forty years they've been in the league.
More from SoDo Mojo
For over two decades from the swinging seventies to the grungy nineties, M's fans who had traveled from far and wide were treated to a game with the thermostat set to a comfortable seventy-two degrees at the Kingdome.
Instead of bearing the natural elements and observing the game at outdoor temperatures that were thirty degrees cooler on average, M's fans got had a cozy indoor seat with no weather interfering.
Having the privilege as a baseball fan to not have to worry about rain delays or rained out games was something that Vincent Koskela, the man who headed the push to save the Kingdome, said Mariners would miss.
""And a few years from now, people are going to be complaining that they lost the cozy confines of the Kingdome: 72 degrees of temperature all year long, no rain, no wet, no wind.""
In the end, Mariners fans wouldn't have to deal with the randomness of weather that Koskela warned would pass over an outdoor Seattle stadium.
However, sometimes the winter weather can be nice.
Sure, if you're playing (or watching) in the snow, it may be cold, but when brawn meets blistering cold, it adds another intriguing element to the game. It also connects modern day athletes with the realities of climate that past athletes had to endure because there weren't major stadiums with climate control.
Next: Pomeranz Coming To Mariners?
That's why, when winter rolls around and snow begins to fall on various ballparks across the country, a sparkle comes to the eyes of millions of fans. Unfortunately for Mariners supporters, this is something that they have missed out becomes of their weather-proof stadiums.