Why Alex Reyes is a great fit for the Mariners Pitching Development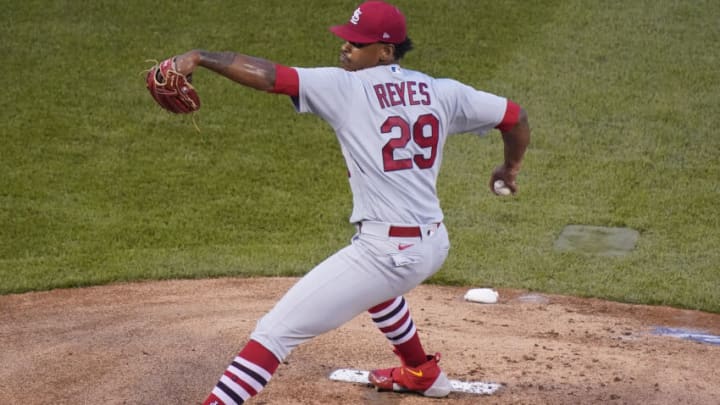 CHICAGO, ILLINOIS - AUGUST 17: Alex Reyes #29 of the St. Louis Cardinals throws a pitch during the first inning of Game Two of a doubleheader against the Chicago Cubs at Wrigley Field on August 17, 2020 in Chicago, Illinois. (Photo by Nuccio DiNuzzo/Getty Images) /
There are dozens of stories of top prospects who had their careers ruined because of injuries. Many thought Alex Reyes was another one of those stories after missing lots of time due to back and elbow injuries. Alex Reyes was considered a top 10 prospect back in 2016 before he made his big league debut, but after years of struggling with injuries and not meeting lofty expectations as a starter, Reyes would go on to have a breakout 2021 season out of the St. Louis bullpen.
2020 was the first year that Reyes got more than a cup of coffee in the big leagues where he had almost 20 innings as a reliever in the shortened season. After years of being a top starting pitching prospect, some might think becoming a reliever is a failure. That was not the case for Reyes when in 2021 he got a chance to pitch at the back end of the Cardinals bullpen and he dominated.
Could Alex Reyes find further success on the Mariners?
Reyes pitched in 69 games, totaling 72.1 innings where he would have a 3.24 ERA and strike out 95 batters. His real dominant stretch came in the first half of that season when he had an ERA of 1.52 and only allowed opposing hitters to hit .154 against him. His arsenal is headlined by both a four-seam and two-seam fastball combination that nearly touches 100. His slider is his best secondary offering but also throws a curveball and change up, but not very often according to Baseball Savant.
The reason that Reyes would be a prime candidate for the Mariners pitching development is that he specializes in getting opposing batters to swing and miss and not allowing hard contact. In 2021, the 6-foot-4 right-hander was in the 80th percentile or higher in average exit velocity, hard hit percentage, expected batting average, expected slugging, barrel percentage, strikeout percentage, and whiff percentage. That is a lengthy and impressive list.
All of those numbers mean that Reyes was in the top 20 percent of pitchers in baseball in those categories. Those are incredibly impressive numbers, and we have seen the Mariners turn pitchers with good stuff into dominant relievers. The best comp currently on the team for Reyes is Andres Muñoz. Both have electric fastball and slider combinations, and both throw hard. Muñoz is in the same ballpark as Reyes when looking at the Baseball Savant numbers.
The reason that Alex Reyes was non-tendered by the Cardinals was that he was going into his final year of arbitration and he missed all of 2022 due to labrum surgery in his shoulder. Obviously, there is risk in bringing in Reyes because of his extensive injury history, but Andres Muñoz missed time due to injury before this season as well. The Mariners would not have to give him a lengthy contract, they should just give him a one-year deal for a few million dollars.
Besides Alex Reyes' injury concerns, he has struggled with command. He was one of the worst pitchers when it came to walking batters in 2021. He walked over 16% of the batters he faced, which was about 10% higher than Muñoz. Even though there are some warts with Reyes, there are warts with all relievers, and the Mariners have proven to be one of the best organizations in baseball at getting the most out of their relievers, and I believe they could do it again with Reyes.
Even though there are issues with Alex Reyes, he has a great foundation of tools to work with, and there is plenty of reason to believe that Jerry Dipoto and Justin Hollander can work their magic again and get him back to his All-Star closer form. The Mariners need back end of the bullpen help after trading Erik Swanson to the Blue Jays for Teoscar Hernandez, and Alex Reyes is a prime candidate to bounce back and be a high-leverage reliever for the Mariners in 2023.