It Ends Tonight: A Celebration of the Seattle Mariners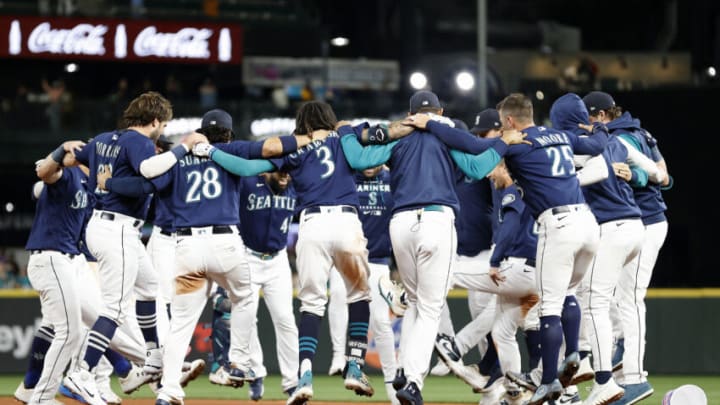 SEATTLE, WASHINGTON - SEPTEMBER 29: The Seattle Mariners celebrate after beating Texas Rangers 10-9 during the eleventh inning at T-Mobile Park on September 29, 2022 in Seattle, Washington. (Photo by Steph Chambers/Getty Images) /
I was born in 1993, I, unfortunately, don't remember the magic of 1995 and 1997, nor the greatness of Griffey or the dominance of Randy with the Seattle Mariners. No, my Mariner magic began at the very first baseball game I ever went to back in 2000 as a wide-eyed six-year-old. I remember it being a big deal as Rickey Henderson had just flown in and was going to play. A-Rod had a huge home run, Rickey helped tie the game and Kaz locked down the save to beat the Devil Rays.
I'll never forget the joy and excitement I had as a kid, being told by my dad that we were going to go to a professional baseball game. The sight, sounds, and smells of a nearly brand-new Safeco Field were intoxicating to a young child. That was a good day.
My Mariners fandom started at the age of 6 and hasn't waned since
I'm glad my dad taught me about baseball. He taught me how to hit, throw, watch and learn the game. I didn't always want to learn or grow, but he pushed me further than I thought I could or wanted to. He coached me during my age 11 and 12 years in little league. I remember more about the arguments and yelling than the good memories.
We both regret that, but we both are glad we were together during that time. There's no better age to learn and play the game of baseball, and I'm thankful my dad was there to guide me. I miss those days and would love to go back and play one more game.
My dad turns 60 this November, and he grew up a San Francisco Giants fan. His team always let him down. There were some good years and bad years, some Bonds years, and a stupid rally monkey year. No matter what, it always ended in disappointment.
My dad stayed loyal and passionate and was rewarded in 2010 when a young Giants team stumbled into the playoffs, got hot, and won the whole thing. My dad waited 48 years for that first moment of glory. He taught me the game of baseball. He taught me about the value and joy of loyalty. I get it now.
Thank you dad. Because of you, today will be even more special.
Those first years as a fan in 2000 and 2001 taught me a lot about life and growing up. I learned and loved the simple things like spitting seeds, cooking my gloves, and pretending I was Jamie Moyer while all my friends wanted to be Ichiro or Brett Boone.
I also learned more complicated things like the beauty of patience that baseball gave me, the sadness of A-Rod leaving and trying to understand why, the hatred toward the New York Yankees for ruining my World Series dreams as a young kid, but mostly the joy of being a kid dreaming of playing for the Mariners as I listened to Dave and Rick call the games.
I wasn't bad but I was never gonna play for the Mariners, the same realization all my friends had as we began to grow up. As my friends began to stop playing and eventually watching the games, and as the Mariners would get further and further away from those glory years, I held on to the best lesson the Mariners and baseball have ever taught me…Hope.
That hope for the Mariners game from a love for the Seattle Mariners. That came from my grandfather Roger. Roger was a wildcard of a man growing up. He was a tremendous baseball player, turned fighter, turned card counter, turned get rich quick schemers, turned home builder. It wasn't till later in his life that his love for the Lord and for Edgar Martinez made him the soft, loveable man that taught me about Seattle Mariners baseball.
Roger taught me about why Freddy Garcia was called an "Ace" in 2001. He taught me how to hate Alex Rodriguez, and why Ichiro was the greatest wielder of a baseball he had ever seen. He told me about how close the M's were to leaving in 1995, and how important Edgar was to keeping them home. He also taught me how to bet. I remember him being so stunned when the Mariners were eliminated in the 2001 ALCS after the 116-win season.
The next two seasons, he'd bet me a whole six-pack of Dr. Pepper that Seattle would win more than 116 games. I must have been 8 or 9, but even I knew that was a good bet. The day after each season he'd stop by and bring me that Dr. Pepper. I remember him always saying, "Just wait till next year, you just wait!" I always smile and laugh, then we'd crack open a drink and watch someone else play playoff baseball.
The next year became 15 years. I went from a boy, to a teenager, to a young man. We probably watched 20 games a year together, through thick and almost always thin. You'll be hard-pressed to find a man who loved Cliff Lee and hated Chone Figgins more than Roger Morris. He always had some Dr. Pepper in the fridge, and we'd always crack one open and dream about us going to a Mariners playoff game, or maybe even a World Series.
My grandpa also lived with cancer for most of my life. He never let it keep him down. We played golf and catch for many years. We went and saw the Yankees beat up on the Mariners a few times. He was my buddy when our family went to Disney World. He was one of my best friends.
In 2015, I could tell that he was starting to get a little bit older. He couldn't do all the physical things he wanted to, but he always was talking and spreading hope, hope about a lot of great things, but also the Mariners. Every time the doctor would say he's got something new, I'd come by to check on him and ask him about it, but he was more concerned with the bullpen and how bad the Mariners were with RISP. That man was the definition of "True to the Blue".
In the summer of 2017, my grandfather got really sick, and for the last time. The cancer has spread everywhere and he was told he had a few weeks to live. I met him at the hospital and he could tell how scared we all were. I remember him saying, "It's ok. I've lived a great life, I'm at peace with it. I know where I'm going and I'm excited."
The next few days were hard on him. He was moved to hospice and was in a lot of pain. I remember my last visit with him when he was able to speak. The 2017 Mariners were playing in Chicago and I was telling him how they were gonna make a push and get back into the playoff chase. I remember he looked at me with such a sad face and said he was sorry, but he just couldn't watch them this year. He was too tired.
My heart broke. Not that he had given up on them, but that he was at peace with it all being over. My last few words with my grandfather are too difficult to write, but he loved me and our Mariners for as long as he could. My dad taught me the life lessons of baseball, and my grandfather taught me the life lessons of being a Seattle Mariners fan.
Roger, I miss you and I hope you have a great view of the party today. You deserve this, and save me a Dr. Pepper when I see you again.
Through the past 22 years as a Mariners fan, I've always believed and have had hope for this team. Through the Ichiro years, and the Felix years, thick and thin, I have loved and kept the faith that we will not only get to a World Series but win the whole thing!
I believed as I watched my dad cry as his beloved SF Giants won 3 titles after being shut out for half a century. I believed when my wife tried to tell me it was ok to root for someone else and I told her, "But why?" I believed when we won 90 games and I believed when we lost 100 games. I believed even when the Trashtros cheated!
I believe… I have hope. Dave Niehaus was like a grandfather to us all during the summer, and he taught us that every day. Players like Kyle Seager saw all the good and the bad, he has taught us to not give up, to have hope. The skipper Scott Servais, the players such as France, Suarez, JP, Julio, Haniger (he may be my favorite Mariner ever!), Kelenic, etc., All these guys show that by having hope and believing, I know great things are happening now, and will only get better.
SEATTLE, WASHINGTON – SEPTEMBER 29: Manager Scott Servais #9 celebrates with J.P. Crawford #3 of the Seattle Mariners after his walk-off single during the eleventh inning to beat the Texas Rangers 10-9 at T-Mobile Park on September 29, 2022 in Seattle, Washington. (Photo by Steph Chambers/Getty Images) /
I took my wife of eight years to her first baseball game when we were engaged. Four years ago we enjoyed a summer ball game where we decided at the game that we were ready to have kids. We spent three of those years dealing with the sadness and heartbreak of a miscarriage and being told we have "unexplained infertility" at such a young age.
In the winter of 2020, we decided to try IVF, and we are blessed to say it worked, and we have a little boy, River Cohen Thompson, who will be almost 9 months old today when the Mariners clinch. The lucky little man will never know of a streak like what we all endured. I'm slightly sad he'll miss out on that journey that we all went through, but I'm so excited and hopeful that he can grow up watching a successful team that is a contender consistently. I simply cannot fathom that type of fanhood.
I've been thinking a lot about my son and who he will become. From the moment I met him, I fell in love with him and wanted nothing more than to protect him and help him in any way I can. I hope he finds his love for baseball, much like I have. It will be an example for our family, much like the Seattle Mariners, that loving a simple game, believing, and having hope in yourself and others can take you to amazing places and a sense of fulfillment, even if you don't always succeed.
That all being said, the Mariners are going to succeed tonight, and they are going to break the curse. Scott Servais essentially guaranteed last night after their epic 11-inning victory. This team has had its ups and downs this year, and it's been obvious the pressure was getting to them. This will only make them better in the long run, and tonight all the sweeter.
Mariners fans, call your friends and family members that have been a part of the journey. Whether you've been waiting 5 years or 21 years, share in the joy with them on this journey. Don't forget those that aren't here anymore to celebrate the great sigh of relief that will take place tonight. Don't forget to cheer and scream and party (responsibly) when it's official.
For tonight, the Seattle Mariners are going to finally do it. They're going to reward the fans with one of the most special moments in franchise history. Tonight is about the players and coaches, past and present, that tried to get Seattle to this day. Tonight is about the fans, past, present, and future that will be connected to this day forever.
Dave Niehaus once narrated an opening day commercial, "Welcome back baseball, welcome back". I'd like to think tonight, he's going to be looking down and say, "Welcome back playoff baseball, welcome back"
Tonight, the Seattle Mariners are going to clinch. Let's celebrate!