Mariners start final road trip with four game series against Angels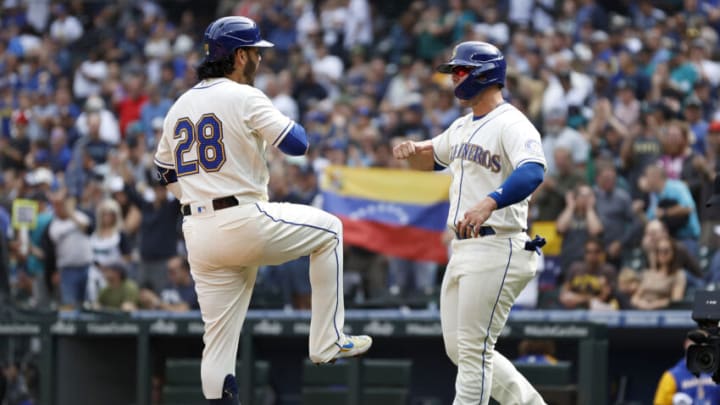 SEATTLE, WASHINGTON - SEPTEMBER 14: Ty France #23 celebrates a home run by Eugenio Suarez #28 of the Seattle Mariners during the first inning against the San Diego Padres at T-Mobile Park on September 14, 2022 in Seattle, Washington. (Photo by Steph Chambers/Getty Images) /
The Mariners are starting their final road trip in 2022, and it starts with a four-game matchup against the Angels in LA. Don't be surprised to see fireworks at some point in the series, since the Angels have been known to implore some dirty and bush league tactics in order to try and hurt the Mariners.
Yeah, I'm still upset. At the same time, they're the ones who lit the fire under the Mariners, so thank you!
Anyway, let's get to it and check out a series preview for the Mariners @ Angels.
Mariners @ Angels Series Preview – Pitching Matchups
Friday, September 16th @ 6:38 PM PT – Robbie Ray vs Michael Lorenzen
Saturday, September 17th @ 6:07 PM PT – George Kirby vs Shohei Ohtani
Sunday, September 18th @ 1:07 PM PT – Marco Gonzales vs Reid Detmers
Monday, September 19th @ 1:07 PM PT – Logan Gilbert vs Jose Suarez
Robbie Ray has taken a no-hitter into the 7th twice this year, and one of those was against the Angels back on the Marco/Mandolorian bobblehead night. If he can stay out of trouble against Ohtani and Trout, I don't see why he won't dominate this lineup again. He gave up a couple of homers vs the Braves last time out but had six dominant starts in a row before that.
The matchup that I am most excited about though, should be obvious. Kirby vs Ohtani. If you're in the area, you can get tickets for just $6! Take note Mariners! Ohtani is incredible to watch, and Kirby has been doing pretty darn good in his own right, especially for a rookie. Ohtani has a 2.08 ERA and 2.69 FIP in his last eight starts, while Kirby has 1.99 ERA and 1.37 FIP in his last 11 starts! If you're only able to tune into one game somehow, make sure it is the one Saturday night.
Mariners @ Angels Series Preview – Hitters to watch
I'll break this down into two sections. The first is obvious. There are three people that aren't just interesting to those who are fans of either the Mariners or the Angels, but to the baseball populace in general. It's Julio Rodriguez, Shohei Ohtani, and Mike Trout. These are the guys we should be watching. Mike Trout just had a homer in seven straight games. Ohtani might just be the most incredible player to ever put on a uniform. Julio is trying to be the face of baseball at 21!
Who else should we be watching, though? For the rest of the season, I'm focused on the Big Dumper himself, Cal Raleigh. Can he break Zunino's team record of 25 HR by a catcher? Also, Ty France. He is down to .275, in large part to a .189 average since the start of August. He really needs to get right before the playoffs for the Mariners to have a chance.
For the Angels, keep an eye on Matt Thais and Andrew Velazquez. Thais is their catcher and is hitting .292 this month with two homers, the most other than the two big dogs. Velazquez has been dangerous on the base paths, swiping four bags this month on four attempts.
Mariners @ Angels Series Preview – Final Thoughts
I'm excited about this series. The Mariners seem to be sporting their best team that has taken the field for Seattle in 20 years. This team is trying to make us believe that they are truly good, and these last 20 games will give them a chance to prove it. A true contender would take care of business, finishing out these lower-tier teams with gusto. The four-game set against the Angels is a prime opportunity to do just that.
We are getting down to it. Five series against the five worst teams in the American League. 20 games. Currently first place in the Wild Card race. It's time to shine. Go Mariners!