Mariners magic number to clinch a Wild Card spot as of 09/30/2022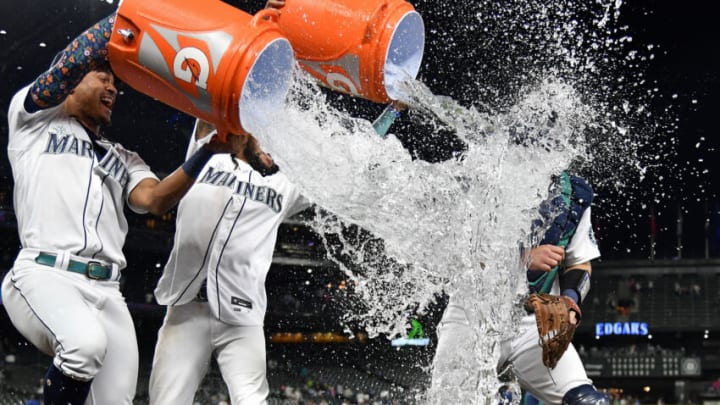 SEATTLE, WASHINGTON - SEPTEMBER 06: Julio Rodriguez #44 and J.P. Crawford #3 douse Cal Raleigh #29 of the Seattle Mariners after the game against the Chicago White Sox at T-Mobile Park on September 06, 2022 in Seattle, Washington. The Seattle Mariners won 3-0. (Photo by Alika Jenner/Getty Images) /
The Mariners are inching ever closer to ending their reign as Kings of the Incompetent. The Rulers of Woe and Despair. There are plenty of teams out there that have had bad runs, but ask a fan from any team, and you would hear the same thing… "At least I'm not a Mariners fan". As we make our way into September, it seems like the M's have a chance to break the 21-season streak and make the playoffs for the first time since 2001.
Make sure to check back here daily, as we will be updating this each day with a bit of new information about the recent games, as well as updating the M's Magic Number after each game.
Quick explainer. The Magic Number helps you understand how close your team is to clinching a playoff berth. Every win by your team drops the number by one, and every loss by the closest competitor drops it by one as well. Once it hits zero, you have clinched a playoff berth. There is another thing to note. There are no more tiebreaker games. The Mariners hold a 4-2 head-to-head advantage over the Orioles so that further drops the magic number by one.
As of 09/30/2022, the Mariners Magic Number to make the playoffs stands at 1
Houston has won the division, but no one cares about them. So let's just ignore them and focus on what's important.
There wasn't a lot to be happy about on the road trip. Logan Gilbert had a nasty game, but other than that, it was ugly. Both the starters and bullpen fell apart, the bats could never do enough, and we are without are two best weapons on offense with Suarez and Julio on the DL.
However, we are just 2.0 GB of Toronto and 0.5 ahead of Tampa, with a 5.5 game lead over the Orioles still. Another O's lose and Mariners win, and they are right on the doorstep.
All the Mariners have left are home games, and the road trip couldn't come to a conclusion soon enough. It was embarrassing, and was capped off by one of the worst games and collapses that the team has ever been a part of. Hopefully, they turn things around in Seattle, which they have started to do in the series win over Texas.
Only two weeks or so remain in the season, and fans are starting to get a little bit of hope that the drought can finally end… and that they could possibly be "That Team" that no one wants to face. Go M's!